In the midst of exceptional scientific advancements, China's top academic institutions are receiving unprecedented attention for their contributions to the nation's progress in science and engineering. The Chinese Academy of Sciences and Chinese Academy of Engineering, home to the country's top scientific think tanks, are leading the way to China's future.
Beijing Review will introduce some members from aforementioned academies, highlighting their achievements and presenting to readers the hardcore leaders of Chinese science and engineering development.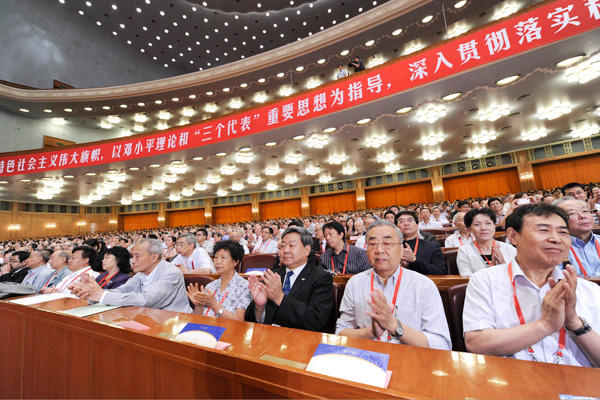 Engineering China's Science
In recent years, the China's investment in scientific research had been increasing rapidly, but real progress is yet to be made. Many academicians agree that the allocation of scientific and technological resources has been too dispersed, repetitive and administration-oriented. This has restrained the advancement of China's innovative ability
Full Story
Brief Introduction to CAS and CAE
The Chinese Academy of Sciences (CAS), founded in November of 1949, is China's national academy for natural sciences. Headquartered in Beijing, it functions as the national scientific think tank, providing advisory and appraisal services on issues ranging from the national economy and social development to scientific and technological progress. Currently, it has 723 Chinese academicians and 64 foreign academicians.

The Chinese Academy of Engineering (CAE) is China's national academy for engineering. It was established in 1994, with the mission of initiating strategic studies and providing consultancy services for decision makers on the nation's key issues in engineering and technological sciences.
more
Chinese Academicians
From 1994 the Chinese Academy of Sciences (CAS) and the Chinese Academy of Engineering (CAE) have added new academicians once every two years. Usually no more than 60 new members are admitted to each of the two academies each time. In 2011, the CAS acquired 51 new members, and the CAE 54
more
Official Issues: Developing China through Science and Education
- Strengthen the national innovation system.

- Deepen reform of the management system for science and technology, spur enterprises to become the main source of technological innovation, and more closely integrate science and technology with the economy

- Support enterprises in developing R&D centers and undertaking major national and regional science and technology projects
more