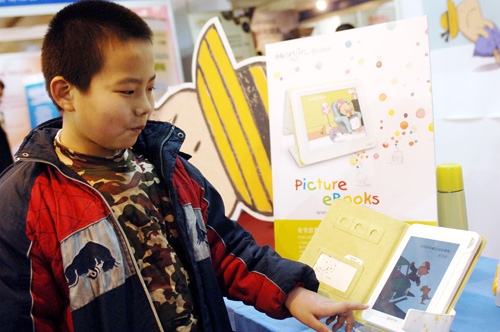 ADVANCED: A child experiences an e-book in a book market in Beijing on January 9 (XINHUA) 
April 23 was the 16th World Book and Copyright Day, also known as the World Book Day. Reading-related problems have once again attracted people's attention. Today, living a life with an increasingly rapid pace, most people are occupied by work, household duties, surfing the Internet and other activities. How can they manage to read? How is increasingly popular electronic reading changing people's reading habits? When people are gradually inclined to read for practical use, how can they keep on reading for their interest?
Who's reading?
Before the World Book Day, a survey conducted by Guangming Daily showed readers in China are not limited to intellectual and student groups any longer. Readers now cover people of different occupations and age groups. Their reading aims are different, but are often closely related to their own lives.
College and middle school students are still the main force of readers. Books they prefer are of two types: Chinese and foreign classics, and study-related ones. Guo Dong, a freshman at Renmin University of China, says every day he spends at least two hours reading. "I choose to read books related to my study to broaden my knowledge. I also read famous literature, both Chinese and foreign to improve my taste."
For most adults, work-related books and books about health and lifestyle are first choices.
Li Guosheng, who works as a physics teacher in Shuangliu Middle School in Chengdu, capital of southwest China's Sichuan Province, said he would set aside one or two hours every day to read books after teaching.
"At present, I am reading books on how to be a good teacher. These books both help me to improve my teaching skills and give me relaxation," Li said.
Han Xue, an office worker in east China's Shandong Province, said, "I am both a clerk and an editor for the company's publications, so I need to read lots of professional books. For example, books on news writing, editing, and photography. And, as a parent, I also need to read books about parenting and those related to health."
Retirees compose another major group of readers. They like choosing books freely according to their interest.
Qu Xian'en, a Beijing citizen, is a retired teacher. He says there is nothing happier than reading. "I have been reading for more than 40 years. I read history to learn about China's past and read biographies to learn about the lives of masters. From books I can understand the joys of life."
Liu Bin, a retired former official of the Central Government, said, "Before my retirement, I seldom had time for reading. Now, I would like to read history books and books about culture, art and calligraphy. "
What are they reading?
The popularity of electronic reading greatly affects the consumption on traditional printed books.
"I haven't bought books for a long time. Cellphones and iPads are so convenient for reading. They are not only portable but also have many resources," said He Lan, an office worker. She still retains the habit of reading during her spare time but now always carries an iPad or cellphone to read instead of a printed book. Though printed books give people a better feeling of reading, she prefers the convenience of e-reading.
The seventh survey on Chinese people's reading conducted by the Chinese Academy of Press and Publication (CAPP) in 2010 showed the number of readers who read online or by using cellphones and e-books is increasing year by year. In 2009, 24.6 percent of Chinese readers read digital books. Of them, online readers accounted for 16.7 percent, ranking first, and 14.9 percent used cellphones.
The ways of reading are changing gradually, and "fragmentary" and "shallow" reading, which means reading not in an in-depth way, is increasing. The phenomenon is not only greatly influencing traditional publishing but also worrying many people.
"It does have some negative aspects. Though people spend much time in digital reading, sometimes it is aimless and very little useful information is obtained. It also affects people's reading efficiency and interest," said Ren Jing, Chief Librarian of the Chongqing Library in Chongqing Municipality. "Systematic and in-depth reading is much more important."
In January 2011, the China Internet Network Information Center released a report on China's Internet development status, which showed that by December 2010, the utilization rate of online literature was 42.6 percent, with 195 million users. The figure increased 19.9 percent compared to 2009. Among the users, youth accounted for the largest proportion.
"We cannot simply say 'shallow' or 'fragmentary' reading is good or bad, especially for young readers. First, it can awaken youngsters' interest. Second, this type of interactive reading offers new method of knowledge acquisition, exchanges of information and interpersonal communication. This kind of reading can also help form new modes of thinking," said Xu Shengguo, Director of the Office for Applied Theory Research under CAPP.
Meng Xiangkun, a professor with the Anhui Foreign Languages University, said he thinks reading via the Internet enables people to know about the world more thoroughly without going out of their houses. "Online databases are also very important information sources. When researching, I often look for information from the Internet. It is very convenient," he said.