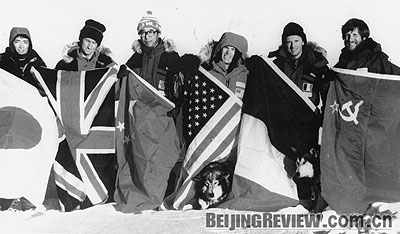 HISTORIC MOMENT: Qin Dahe (third from left) and his teammates pose during an expedition across Antarctica. Their journey, completed on March 3, 1990, was the first-ever trek across the full length of the region
About 118 km from Urumqi, capital of Xinjiang Uygur Autonomous Region, lies Glacier No.1 in the Tianshan Mountains. Melting ice from one of the 10 most famous glaciers in the world feeds into the Urumqi River, providing water to the millions who live along its banks.
But the magnificent glacier has been receding. In the past four decades it has shrunk by about a quarter, according to data recently released by the Tianshan Mountains Glacier Observatory of the Chinese Academy of Sciences (CAS).
Qin Dahe, 61, a glaciologist, climatologist and academician at the CAS, was shocked at how it had diminished when he visited the glacier last year.
Qin, who wrote his master's degree thesis on Glacier No.1 more than two decades ago, blames global warming for the accelerated melting of glaciers recorded in China over the past few decades. He warned that if the temperature continues to rise at the current pace, the glacier on the Qinghai-Tibetan Plateau could dwindle from the 500,000 square km it was in 1995 to about 100,000 square km in 2030. Without the glaciers, the vast inland area of Asia will suffer from water shortages. The oases will vanish, making the local residents homeless."
Qin is a renowned scientist specializing in the cryosphere and climate change. He had been the head of the China Meteorological Administration (CMA) before he retired from that position last year. He is also the former Permanent Representative of China to the World Meteorological Organization (WMO).
Influential results
Over the years, Qin has participated in numerous scientific explorations in the South Pole, North Pole and Qinghai-Tibetan Plateau. He has also conducted comprehensive and in-depth research on the South Pole ice cap, glacial evolution and environmental changes in the Himalayas. Some of the studies he has led have produced influential results.
Qin's studies have shed light on climate change. According to him, more than 90 percent of global warming is attributable to human activity, and if we do not change our behavior, the global average temperature could rise 6 degrees Celsius by the end of 2100. Studies demonstrate that an increase in global average temperature of 4 degrees Celsius will cause a 1-to-5-percent loss in global gross domestic product.
Scientific findings about climate change have been documented in the assessment reports of Intergovernmental Panel on Climate Change (IPCC), which was established in 1988 to assess information relevant for the understanding of the risk of human-induced climate change. Qin served as co-chair of working group I on the fourth assessment report released in 2007, and was a member of the core writing team of the report.
In June 2008, Qin was awarded the 53rd International Meteorological Organization Prize by the WMO. The prize is awarded annually to individuals for outstanding work in the field of meteorology or in any other related field. Qin was the second Chinese recipient of the so-called "Nobel Prize in meteorology."
Qin has devoted much effort toward informing people about the risk of climate change. When delivering a report at a meeting of Chinese science academicians in July 2008, he pointed out that in the short term, the accelerated shrinkage of glaciers will increase water supply into rivers, but over time, as glaciers approach a complete meltdown, water supplies will dwindle, so global warming will threaten water safety in China.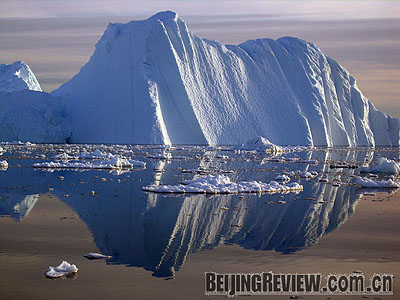 Qin also said that the melting of glaciers and permafrost areas has increased the frequency and intensity of floods, landslides, avalanches and the softening of permafrost areas. As permafrost areas soften, engineering projects such as railways built on them will face an increasing danger of collapse. As glaciers disappear, valuable climate, hydrological and biological information recorded in ice will be lost, he added.
Glaciers provide four fifths of all the fresh water on earth, and about 98 percent of this fresh water is stored in Antarctica and Greenland, according to the Encyclopedia of China. A complete meltdown of all the glaciers on earth will cause the sea level to rise by 60 meters, enough to engulf all of China's coastal cities.
Statistics published by Xinhua News Agency show glaciers in west China cover about 0.6 percent of China's total land area. The size of China's glaciers ranks fourth in the world, after Canada, Russia and the United States. These glaciers feed water into some of the country's largest rivers such as the Yangtze and the Yellow rivers.
In the past four decades, China's glaciers have shrunk 5.5 percent in total area, and lost 7 percent in volume, according to a survey conducted by Chinese glaciologists. The survey also concluded that glacial melting has caused about 14 percent of the sea level rise in the last century.
"When Nanjing City is assailed by storms in 2050, it will be difficult for the city to drain water because of the rise in sea level, and the city will be inundated," said Qin, during a report on climate change in Nanjing, capital of east China's Jiangsu Province, last month.
Curious and adventurous
Qin was born in Lanzhou City, west China's Gansu Province. Glacial science was not love at first sight for Qin. When he applied for admission to Lanzhou University, he chose to major in mathematics or physics, but was assigned to the Geology and Geography Department. A curious and adventurous person, Qin became interested in glacial science as he learned more about it.
After graduation in 1965, fate pulled him away from a research career on glacial science when he was assigned to teach in a middle school, where he taught for almost seven years.
Qin's research career was not launched until May 1978, after the establishment of Lanzhou Institute of Glaciology and Geocryology under the CAS that year. While conducting research at the institute, Qin continued his postgraduate study in Lanzhou University, obtaining his master's and doctoral degrees.
Exploring glaciers is a dangerous job. Glaciologists often spend prolonged hours in extremely cold temperatures and live in harsh conditions. Avalanches, landslides and deep crevices on glaciers can swallow their lives in an instant.
Qin proved that he was up to the job when in 1989 and 1990 he became a national hero as the first Chinese person to trek across Antarctica.
From July 1989 to March 1990, a joint exploration team crossed the Antarctica, completing a journey of about 6,000 km. The team consisted of six members from China, the United States, the former USSR, Japan, France and Germany. Qin was the only glaciologist on the team.
On each of the 220 days they spent in Antarctica, Qin recalled, the team trekked during the day, before setting up tents, cooking and feeding several dozen dogs at dusk. They ate hard compressed foods and slept in sleeping bags. As a scientist, Qin had an extra task, which was to take an ice sample after each 40 km. He had to dig one or two meters deep to get the samples, which usually took half to two hours, but once he spent six hours digging. Half way through the expedition Qin had lost 30 kg of his body weight.
Qin was appointed head of CMA in 2000. In that capacity, he advised the government in making important policies on climate change. He proposed that the government strengthen scientific monitoring of the climate, and take action to mitigate and adapt to climate change at the same time. He also encouraged Chinese scientists to do more in developing climate models and evaluating the impacts of climate change.
In fall 2008, Qin took part in an onsite study on the Origin of Three Rivers, namely the Yangtze River, the Yellow River and Lancang River. The region was known as the "water tower of China," but now suffers from desertification, loss of biodiversity and a deterioration of grassland. Qin said the research team is expected to come up with significant findings so that they could advise the government on policy making in this area.
Qin also has more work lined up. In September, he was reelected the co-chair of IPCC working group I, which he will lead to finish the fifth assessment report on climate change by 2014.