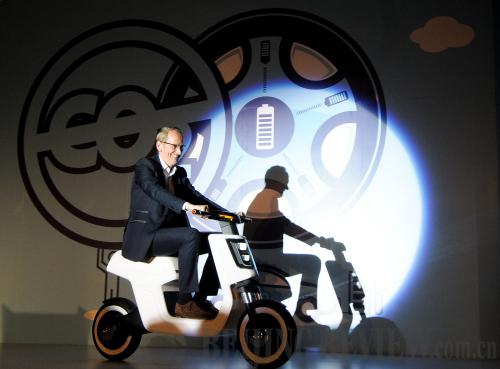 THE E-FUTURE: Karl-Thomas Neumann, CEO of Volkswagen China, rides an E-Scooter at a science forum held on July 16, 2011, by the Science Squirrels Club and Guokr.com (WANG JIANHUA)
When Ji decided to set up the Science Squirrels Club, his idea was simple—"Authors of science articles work separately, and I wanted to build a platform that would connect them together." Ji was not the only person trying to reach a tricky balance between rigorous scientific research and mainstream accessibility. When he started sending out author requests in 2008, the responses flooded in. Since then, the group has grown at an amazing speed. "Sometimes I feel as if those people are hiding in a big house," Ji writes in a blog post, explaining the phenomenon. "They surface from different corners when I call them to dinner."
Juzi was one of the club's first members to join. At the time, she was working toward a Ph.D in cytology in the United States. She joined the group to kill time between courses, but found herself obsessed with the Squirrels' community. After she graduated, the scientist-to-be bought a plane ticket to Beijing, leaving behind a decade of life lived in a lab. The day after she arrived, she walked straight into the club's headquarters and became a full-time employee.
"The group gives me a sense of belonging," she says. "It's a totally different feeling from what I get through doing research. You can always get feedback. You know that you have readers, and they like what you write."
Presently, the Science Squirrels Club has over 100 members in several countries, including China, the United States and Britain. Most are educated science majors. The Squirrels also attract literature majors, though, and high school students are active participants.
"There is a misunderstanding that only those majoring in science can join us," says You, the club's chief editor. "In fact, there are many Squirrels majoring in Chinese." You is adamant about the club's accessibility. "Science literacy has nothing to do with your major. It can be acquired through self-education and extensive reading."
Although the Squirrels differ in age and major, they share many passions. They all love writing, communicating and sharing. They talk in an organized and rigorous way—but insist on referring to each other with funny screen names.
"The best part of joining the club has been getting to know a lot of funny guys," says You. "They view the world in a unique way. They have widened my horizons and changed my life."
Although the Science Squirrels Club has kept Making Science Popular as its slogan, its founder Ji has other plans.
"Making Science Popular needs a context," he says. "To fulfill the goal, we need to get more social resources involved." At the end of 2010, Ji launched a new website, Guokr.com. Unlike the club, Guokr is a commercial enterprise.
"We need different organizational structures to serve different goals," Ji explains. "The Science Squirrels Club is an association of science writers, focusing on their personal growth. Its appropriate form is a non-profit organization."
"Guokr.com is a science and technology community that is devoted to building connections between regular people. I hope that it can exert a wider influence," he says.
A big problem in China, says Ji, is the gulf that exists between science and culture, and also between people working in the two fields. He insists that science and technology should be more embraced in the mainstream culture.
"We used to believe science and technology could only impact our daily lives, but now I hope it can also influence our cultural selves and then the way we think," he explains. "Science is a way to see the world. In the past, people tended to view the world only through the lens of the humanities. In the future, I hope they can realize that there are also scientific lens."
Now the CEO of Guokr.com, Ji has his hands full every day. But giving public lectures for the club is still on his schedule. After all, what drives him is his interest in science.
"Originally, I wanted to be a scientist. And then it turned into wanting to be a good journalist or science writer. My ideas are always changing," Ji says with a laugh. "It's hard to say what I will want to do next year."
Email us at: liuyunyun@bjreview.com