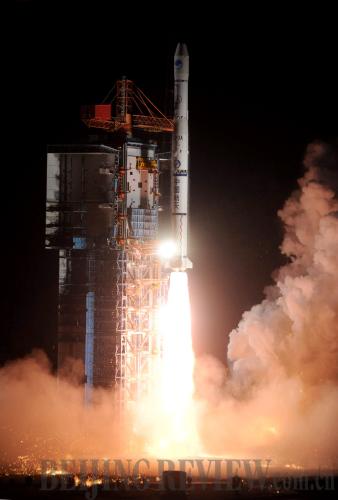 SUCCESSFUL LAUNCH: A Long March 3 rocket carries the eighth Beidou satellite into orbit from the Xichang Satellite Launch Center on April 10 (XINHUA)
China's regional satellite navigation network has been basically completed. It was marked by the successful launch of the eighth Beidou (Compass) satellite into orbit carried by a Long March 3 rocket on April 10.
"As significant infrastructure, the Beidou navigation system has special meaning for China's national security and economic construction. It also plays an important role in common people's daily lives," said academician Yang Yuanxi, one of the three executive chairmen of the 2011 China Satellite Navigation Conference (CSNC). "From next year, China's private car owners will also be able to use the positioning function of the Beidou satellites."
When all regional satellites have been launched, the Beidou system will play a role in people's daily life, said Li Changjiang, chief commander of the system.
Effective function
During the past few decades, Chinese scientists have been devoted to developing the country's own satellite navigation system.
Most people knew about Beidou system after the 8.0-magnitude earthquake struck Wenchuan County in southwest China's Sichuan Province on May 12, 2008. All communications infrastructure there was destroyed, isolating the area totally from the outside world. About 10 p.m. that day, the first rescue team arrived in the earthquake-stricken areas. Using civilian-level Beidou 1 System terminal devices, rescuers soon transmitted information about the emergency and aid requirements to the outside world. From then on, real-time information about the disaster was sent continuously to relief headquarters accurately and swiftly.
Before any communications system was fully restored in the affected area, rescue forces were equipped with more than 1,000 Beidou 1 System terminal devices, which helped rescuers realize direct links between rescue points and headquarters. Shortly after rescue forces with this equipment arrived in Wenchuan, the control center for the navigation and positioning system in Beijing had pinpointed their locations.
The Beidou has an innovative function—two-way text messaging, which can't be realized by the U.S. Global Positioning System (GPS) and Russia's Global Navigation Satellite System (GLONASS). Users of the Beidou system can send up to 120 characters at a time. It is exceptionally useful especially in remote areas, in deserts or on seas where mobile phone services are unavailable.
During the Wenchuan rescue, with the help of this function of the Beidou 1 System, rescuers were able to communicate with their headquarters directly through text messages and the function has become vital in many successful rescues.
Different from GPS positioning, the Beidou system enables two-way positioning. It not only allows users to know where they are, but also allows others to know the locations of the users. This function will prove useful for rescues in disaster areas.
Timing is another important function of the Beidou system. Precise timing has wide and vital applications in many areas, including public transportation, communications, electric power and national defense.
The Beidou system provides both one- and two-way timing. The one-way timing is precise to 50 nanoseconds, while the two-way is 10 nanoseconds, the world's most precise rate at present.