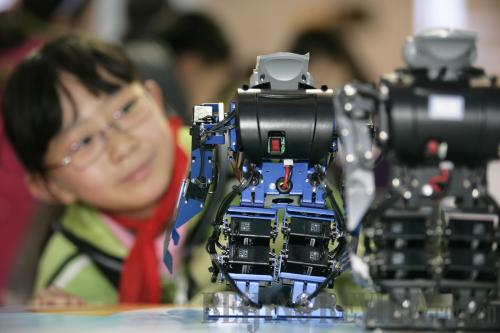 SCIENCE FOR ALL: A pupil in Beijing is attracted by a robot displayed in a recent exhibition in Beijing on science and technology products made by students (ZHANG CHUANDONG) 
On a recent cold winter night
,
a child passed out at his home in Beijing. His mother pushed the button of an emergency alarm system installed in their home. The system immediately put her through to Beijing 999 Emergency Aid Center, but she was too panicked to remember her home address. Emergency aid staff quickly identified her exact location and an ambulance arrived quickly.
The child lived in the Huixinbeili community in Beijing's Chaoyang District. In this community, every household that has seniors above 65 years old or handicapped persons has a free emergency alarm system installed in their homes.
The system is connected to the residents' home phones and a computer database in the 999 center. The database stores the residents' names, addresses, emergency contact numbers, photos and medical records, and when a resident pushes the emergency button at home, the computer screen in the center promptly displays their information. The system also has a remote control which seniors can take along when going out for a walk. The system is a blessing for someone living alone, especially those who cannot not clearly report their address or contact number.
The emergency alarm systems were installed with 4 million yuan ($588,235) of funding for a community science and technology application project from the Beijing Municipal Science and Technology Commission and Chaoyang District Science Committee. The commission is piloting the project in six communities in five districts in Beijing. So far, 30 types of advanced technology have been widely applied in 54 neighborhoods to the benefit of about half a million people.
Pilot project
Beijing has extensive science and technology resources. But often the research findings of universities, research institutes and enterprises tend to be locked up inside their walls. This pilot project aims to improve residents' lives with science and technology.
By integrating resources of research institutes, universities, enterprises and communities, the pilot project will spur the commercialization of research results and benefit residents, said Zhu Shilong, Deputy Director General of the commission.
A special work group has been set up to coordinate the project. Residents in the neighborhoods where the project is being piloted put forward their requests, science and technology institutes sort out application plans, and various enterprises provide the services.   
Zhu said experts have been sent to various neighborhoods in Beijing to learn about the needs of residents and community resident committees, and to universities and enterprises to study the availability and feasibility of the technology. 
So far, more than 110 science and technology applications in fields such as energy saving, medical services, public security and communications have been collected from variously sources and are available to the communities.
The project will gradually be expanded to all of Beijing's communities, Zhu said.