China hopes that its economy can grow this year unaffected by international speculative funds, or hot money. But questions are increasing in frequency surrounding the issue as economists become ever-vigilant about the flow of international hot money. From every angle, they look for evidence of hot money as concerns abound about huge inflows and outflows of funds that may have an adverse impact on the Chinese economy.Chinese Version>>
In 2009, the Chinese foreign exchange reserve increased by $453.1 billion. Deducting the $196.07-billion trade surplus and foreign direct investment (FDI) of $90.03 billion, the difference stood at $167 billion, the equivalent to roughly 3.4 percent of China's GDP last year.
If this money was to leave China all at once, or if more money was to enter China, the sound development of the Chinese economy would almost certainly be affected.
In or out?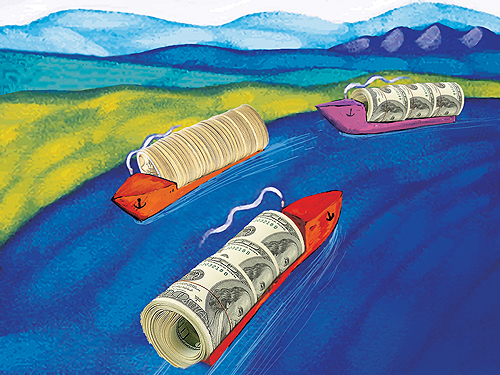 "Hot money is chasing profits. With positive economic signals such as the discount rate rising in the United States, hot money has begun to leave China and seek better footholds elsewhere," said Li Yongsen, a professor at the Financial and Securities Institute of Renmin University of China.
On February 18, 2010, the U.S. Federal Reserve lifted discount rates by a quarter of their current figures. According to Li, the U.S. dollar, affected by the discount rate, will be stronger, and some emerging markets, including China, will face further pressures from capital outflows.
Ye Tan, a financial commentator, said various signs show that with the appreciation of the U.S. dollar and economic readjustments in Western countries, speculative funds are undoubtedly flowing into the United States and Europe. The current amount of such hot money is not extensive, estimated to be less than $100 billion.
"The scale withdrawal from China through foreign-invested companies in China will make the current account shift from surplus to deficits. That is to say, China may face deficits in the balance of payments instead of its current surplus," Zhang Ming, an expert at the Institute of World Economics and Politics of the Chinese Academy of Social Sciences, said.
As the past year has seen Chinese economy grow stably, expectations for yuan appreciation run strong, Zhang said. A large amount of hot money has already poured into China for various speculative investments, exacerbating asset price foams in the country's real estate and stock markets.
However, with the gradual tightening of liquidity in many countries, especially interest rate increases, hot money will have more opportunities for arbitrage by use of interest differences globally, which may entice hot money to vacate the Chinese market.
In the meantime, China has started to tighten its own liquidity, regulating industries with marked price bubbles such as the real estate industry. This has, to some extent, reduced the speculation opportunities, but the end result could be a sudden and massive outflow of hot money.
"Overall, the abundance of hot money is not good for China's economic growth. The outflow of hot money itself is not bad, but what we should be aware of is that if a substantial sum of such money leaves China in a short period of time, the result will be a sharp decrease in asset prices and financial market turmoil," Zhang said.
According to statistics released by the Ministry of Commerce on February 20, the paid-in FDI in January reached $8.13 billion, up 7.79 percent year on year. FDI had been on the rise for half a year since August 2009. A report of Anbound Consulting Co. Ltd. said this indicated that foreign capitals are accelerating investment in China, much of which is hot money pouring into China via channels such as false trade. The report also elaborates on the difficulties the current Chinese foreign exchange supervision mechanism faces in resisting disturbances by hot money.
Li Yinhua, a researcher at the Graduate University of the Chinese Academy of Sciences, thinks that more hot money is entering China for arbitrage by use of yuan appreciation.
In the second half of 2008, given the global financial crisis, China suspended yuan appreciation started from July 2005. In fact, the yuan exchange rate is again pegged with the U.S. dollar at around $1 = 6.83 yuan. As the world economy continues to recover, pressure from the international community to appreciate the yuan is increasing and the market is again anticipating whether China will allow one-off yuan appreciation.
China Economic Forecast and Outlook in 2010, a report released on February 6 by the Center for Forecasting Science of the Chinese Academy of Sciences, estimates the increase of liquidity on the global capital market this year will be faster than last year, with China and other emerging economies becoming the target for international capital inflows due to their high economic growth expectations. The report said that China would see much more floating capitals this year.
According to the report, a large amount of international capital is coming to China looking to make a quick profit, bringing a huge test to the Chinese capital and real estate markets. The yuan exchange rate has since become a key factor in capital flows.
The report also says that when there are big uncertainties in the world economy and the world financial market is still fragile, the situation for flows of international capitals might be worse. Affected by the global economic situation, Chinese foreign trade has not yet achieved a big recovery. In the meantime, trade protectionism picks up worldwide and protectionism policies against China is becoming increasingly fierce, being the biggest economic challenge for China in 2010.
Not a worry
Regarding hot money worries, Chen Bingcai, Deputy Director of the Policy Consulting Department of the Chinese Academy of Governance, thinks there is not reliable evidence to the flow of hot money in or out of China.
"Once a huge amount of hot money enters a country, it will certainly damage or beat the economy and finances of the country. Hence, we should guard against inflows of hot money during times of economic and financial prosperity," Chen said. "However, hot money has not been as devastating as anticipated. This indicates that the hot money problem may be a figment of our imaginations and that Chinese regulation and administration is effective."
The speculation space for hot money is limited, Chen said. In Chen's opinion, hot money often makes its way to stocks, foreign exchange transactions, interest rates, exchange rates, financial derivatives and real estate. "By analyzing these factors, we can judge whether there is a major inflow of hot money," he said.
As for the stock market, Chen said, between 2002 and 2006, the market was in the doldrums and investors were unenthusiastic. From the end of 2006 to October 2007, investment opportunities in the Chinese stock market were prevalent. But since the end of 2008, conditions that would attract an inflow of hot money have been scarce and the stock market has experienced normal fluctuations.