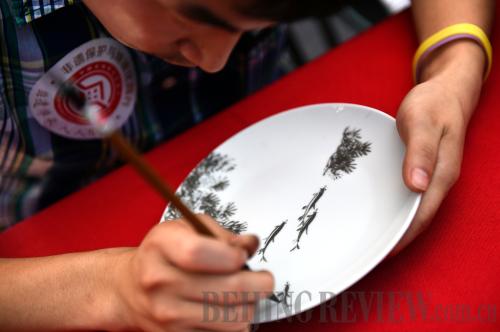 INTRICATE CRAFTSMANSHIP: A ceramic artist displays the skills needed to replicate antique procelain in Beijing on June 14, China's ninth Cultural Heritage Day (JIN LIANGKUAI)
Aging Society
More than 131.6 million Chinese citizens are now over the age of 65, about 9.7 percent of the population, the Ministry of Civil Affairs said on June 17.
The population of those at or above 60 had hit 202 million by the end of 2013, nearly 15 percent of the total population. According to international standards, a country or region is considered to be an "aging society" when the number of people aged 60 or over reaches 10 percent or more of its total population.
China's population above age 60 is expected to exceed 300 million by 2025 and hit 30 percent of the total population by 2050.
China has more than 42,500 nursing centers for the elderly, with about 5 million beds. The number of beds has increased nearly 19 percent from a year earlier, but there are still only enough beds for 2.44 percent of senior citizens.
Orphan Care
More than 80,000 disabled orphans have undergone surgery and rehabilitation over the past decade thanks to a welfare project, Minister of Civil Affairs Li Liguo said.
Some 18,000 disabled orphans were adopted by domestic or overseas families after convalescence from surgery, Li said on June 16 at a conference about the Tomorrow Project, a program initiated in 2004 by his ministry.
The project is mainly funded by China's welfare lottery and has received over 50 million yuan ($8.03 million) worth of donations from people of all circumstances, according to Li.
Li vowed to push forward the project and expand its focus from surgery to general medical treatment and to extend its coverage to sick and disabled children from needy families.
Underground Survey
A general survey of underground pipelines in cities and a unified management system will be completed by 2015, the Chinese Government announced on June 14 in a move to reducing accidents caused by aging facilities.
Gas, water, sewerage, telecommunications and other underground pipelines will be upgraded by 2019, the State Council, China's cabinet, said in a policy document.
A sound urban underground pipeline system will be built by 2024 and substantially better emergency response and disaster prevention are called for in the document.
Serious accidents caused by old pipes have become more frequent. The death toll reached 62 when crude oil leaked from an underground pipeline in November 2013 in Qingdao, east China's Shandong Province.
Joint Lab
An international laboratory for high-altitude medical research has been established in Xining, capital of northwest China's Qinghai Province, on June 16.
The lab is a cooperative effort between China's Qinghai University and the University of Utah in the United States. Scientists from the two schools have been partners in academic exchange, personnel training and research collaboration since a cooperative agreement was signed in April 2010.
High-altitude medicine focuses on the prevention and treatment of altitude sickness as well as other health issues affecting travelers, adventurers and residents of high mountainous regions around the world.