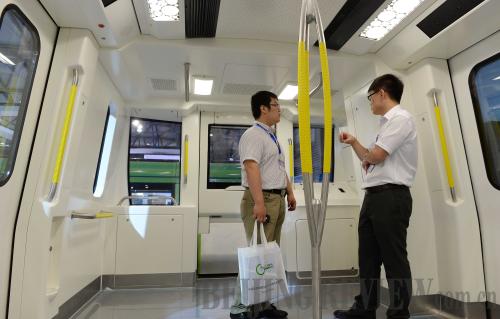 AUTOMATIC PILOT: A staff member shows a visitor the cab of China's first unmanned subway train at the Shanghai New International Expo Center on June 17 (LAI XINLIN)
Free Trade Account
China's central bank launched a free trade account for the country's first free trade zone (FTZ) in Shanghai on June 18, as part of efforts to test bolder financial reforms in a risk-controlled environment.
The Shanghai Head Office of the People's Bank of China (PBC) said that five banks have met the requirements to open the account. Companies registered in the FTZ—a 29-square-km area to pilot economic reforms—will be able to use the account for financing, investment and other cross-border transactions.
So far, firms in the zone can borrow offshore funds, deploy working capital between subsidiaries both in and out of China and enjoy greater flexibility in managing foreign exchanges.
The move comes two weeks after the PBC issued operating details on the free trade accounting unit, an arrangement that separates cross-border transactions in the FTZ from other onshore transactions.
Industry Overhaul
Chinese authorities on June 13 released a work plan to encourage merging and corporate reorganization among domestic baby-formula producers to ensure the sound development of the industry.
The quality and safety of infant-formula milk powder is a key issue concerning people's quality of life, as well as a major economic and social issue, according to the document.
The plan says that companies will be encouraged to reorganize through mergers and acquisitions. By 2015, China aims to have formed around 10 baby-formula conglomerates, each with an annual sales revenue of more than 2 billion yuan ($321 million).
By that time, the top 10 domestic brands of baby formula are expected to account for a total market share of at least 65 percent.
The plan also sets a further goal of forming three to five baby-formula heavyweights with annual sales revenue exceeding 5 billion yuan ($803 million) each by 2018. The top 10 domestic industry players are then expected to nab more than 80 percent of the entire market.
Declining Housing Price
China's property sector continued to cool in May, as new home prices in half of 70 major cities showed month-on-month drops, the National Bureau of Statistics (NBS) said on June 18.
Only 15 cities saw month-on-month increases, substantially down from 44 in April.
The average home price in the 70 cities slipped 0.15 percent from the previous month, marking the first drop in more than a year, according to the NBS.
Of all the 70 cities, prices in Hangzhou of east China's Zhejiang Province dropped the most, down by 1.4 percent.
For existing homes, prices also declined in 35 cities month on month in May, up from 22 cities in April.
Liu Jianwei, senior statistician for the NBS, said home buyers have started to adopt a wait-and-see attitude amid uncertain market prospects, prompting developers to cut prices to alleviate pressures from piling inventories.
Bond Ratings
Credit ratings will be introduced into a local government bond-issuance pilot, in a move to enhance risk prevention, the Ministry of Finance announced on June 13.
The ratings will come in nine levels, which are AAA, AA, A, BBB, BB, B, CCC, CC and C. The AAA rating indicates an extremely low default risk, with C suggesting inability to repay debts, according to a document released by the ministry.
A total of 10 local governments have been authorized for independent bond issuance and repayment. Bond-issuance by local governments was initiated in October 2011.
Local governments are required to publicize credit ratings for their bonds, local economic development, fiscal income and expenditures, as well as liabilities.
All of the aforementioned information must be made public at least five working days prior to the new bonds issuance, according to the rule.
The local governments involved in the pilot program are also required, on an annual basis, to conduct comprehensive credit ratings on their bonds issued with different maturity terms, including five years, seven years and 10 years, the document said.