Residents of Jinhua Village discuss the village's development plan at a meeting presided over by Yang Hong on June 2, 2015 (COURTESY OF YANG HONG)
As provinces throughout China strive to eradicate poverty by 2020, in line with plans set out in the country's 13th Five-Year Plan (2016-20) for social and economic development, southwestern Guizhou Province seeks to set an example through tourism projects and related business activities.
"Guizhou has a population of over 6 million living under poverty, accounting for nearly 10 percent of the country's impoverished population," said Li Yao, Director of the Guizhou Provincial Government's Finance Office, at the Eco Forum Global Annual Conference.
The forum was held in Guiyang, capital of Guizhou, on July 8-10. Participants discussed a range of topics regarding sustainable development, ecological and environmental protection and poverty alleviation.
"Poverty alleviation concerns people's livelihoods and is therefore the most pressing task for Guizhou in the next five years," Li added. Some local projects have branched out throughout the province to meet these goals.
Yang Hong, an assistant to the mayor of Meijiang Township in Meitan County, is in charge of a tourism project called "Seven-Color Tribe" in the village of Jinhua.
The tourism project covers 1.1 square km and has large areas devoted to tea farms in the mountains as well as fresh air, which are among some of the area's main tourist attractions.
Yang told Beijing Review that the project was initiated in March last year in order to boost local economic development and increase rural residents' income.
Previously, local farmers made a living from tea production. Before 2014, they had an annual per-capita income of less than 10,000 yuan ($1,495).
Xu Xueliang, a former tea farmer, was the first local resident to start a hostel, providing catering services as well as accommodation, for tourists last year.
Xu said that his two-bed rooms cost 100 yuan ($15) a day and are equipped with air conditioners, bathrooms, heaters and wireless broadband. He now makes 40,000 yuan ($5,978) a month on average and hires seven local villagers to assist him. Aside from the income received from the hostel, he also sells local specialties such as tea to make more profit.
Xu is only one of the local farmers to have engaged in tourism-related businesses. According to Yang, there are now more than 10 hostels, five hotels, four supermarkets and two bars in Jinhua.
In 2015, the per-capita net income of villagers participating in the Seven-Color Tribe project reached 16,400 yuan ($2,451), a 45-percent increase from a year earlier. Tourism revenue totaled over 13 million yuan ($1.9 million) from May 2015 to April this year, accounting for 85 percent of the villagers' total income. Jinhua's economy has been able to shift from a focus on agriculture to one centered on tourism.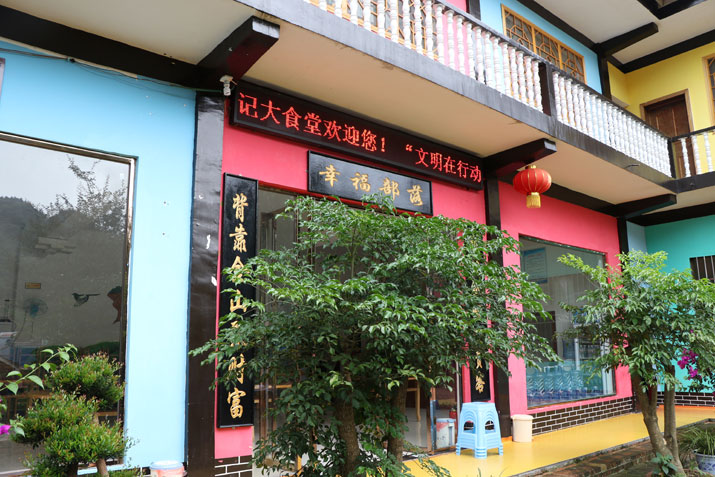 Xu Xueliang's hostel in Jinhua Village (YANG XIAOXIAO)
A new model
Jinhua's tourism industry has grown thanks to a model introduced by the township government that partners local farmers with powerful companies.
A tourism company has been contracted to run the Seven-Color Tribe project. Local farmers are allowed to use their land, idle houses and money in exchange for stakes in a joint venture and can receive dividends at the end of each year.
"In the beginning, some villagers questioned the profitability of the project, for fear that Jinhua is too far to attract people from urban areas," Yang said.
One of Yang's jobs at that time was to inform the farmers of the benefits that could be brought by tourism. He often drove to the village at 6 a.m. to start work. Eventually, 73 households joined the joint venture as shareholders. Now the company's revenue comes mainly from parking fees, admission ticket sales and management charges.
Currently, more guidance needs to be given to local farmers regarding what kinds of business to start, according to Yang. For instance, farmers may swarm to open hostels if they see the business as being profitable, which could lead to over-homogeneous competition.
Yang said that the Seven-Color Tribe project will develop more tourist products in the future. For instance, tourists will be allowed to pick tea leaves at designated farms and try tea making and packaging in person.
He also said that he hopes to turn Jinhua into an incubator for entrepreneurs in order to attract villagers who had moved to work in cities to come back and start their own businesses.
Rural tourism has also thrived in other parts of Meitan. For instance, a garden that features more than 10,000 varieties of flowers has been established to draw tourists to Longfeng Village of Xinglong Township.
Yu Bo, an entrepreneur hailing from Meitan, runs the whole tourism project in Longfeng.
Yu first struck success in 1998 by working on expressway project contracts. Ten years later, he shifted to the cement industry and later sold his cement factory to a state-owned company.
When the county government asked him to help develop tourism in Meitan last year, Yu agreed immediately.
Since then, Yu has invested 200 million yuan ($30 million) in developing tourist facilities in Longfeng. Besides the flower garden, Yu has built a five-star hotel and a restaurant, creating a large number of jobs for local residents.
The land he used is rented from farmers at a cost of 12,000 yuan ($1,794) per hectare a year, which increases by 300 yuan ($45) on an annual basis.
As a result of the growing tourism industry, the value of Longfeng villagers' properties has increased significantly. The rent for a two-story building measuring around 300 square meters has increased from less than 10,000 yuan to 100,000 yuan ($14,950) a year.
Yu said that he will invest another 200 million yuan in improving the infrastructure around the village's scenic spots this year.
A thriving industry
Across Guizhou, village tourism has proved to be an effective tool for poverty reduction.
It's estimated that tourism projects have been carried out in more than 1,600 villages across the province, registering a combined annual revenue of more than 55 billion yuan ($8 billion) and creating over 2.3 million jobs.
Guizhou has sound conditions for developing tourism. "Over 90 percent of the province is covered by mountains and hills, and the province has a rich variety of features such as valleys, waterfalls, caves, lakes and hot springs. Meanwhile, there are 49 ethnic groups in the province, who have diversified cultures," said Sun Zhigang, Governor of Guizhou. He added that Guizhou aspires to transform itself into a world-renowned tourist destination.
Yang Weiyi, Mayor of Tiantai Township in Chishui City, said that the biggest challenge for developing village tourism is the lack of funding. "More funding is needed to develop infrastructure such as roads," he told Beijing Review.
Bi Mingqiang, Chairman of the ICBC Standard Bank, suggested that local governments establish a fund to raise money through equity investments. Also, local governments should step up publicity campaigns to make their tourist destinations better known around the world, he said during the Eco Forum in Guiyang.
Wang Jun, a former economist at the World Bank, stressed that a lot more needs to be done besides funding, including improving the hygiene of local hotels, ensuring the supply of safe drinking water, and providing more convenient transportation.
Copyedited by Bryan Michael Galvan
Comments to jijing@bjreview.com