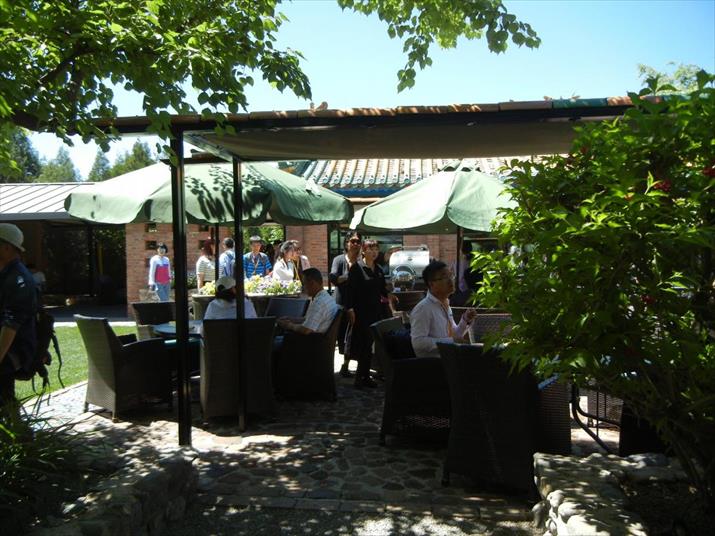 The Brickyard Retreat, the resort and restaurant that the couple built in a converted brickyard, does brisk trade on the weekend (SUDESHNA SARKAR)
Jim Spear was minding his own business when the village loudspeaker crackled into life and he heard the booming voice of Li Lianting, the village head, asking him to report at the village office right away.
"I was very nervous," the 61-year-old said, recollecting the incident nearly two decades ago which he now regards as the turning point in his life. An American with a Chinese wife and two daughters, he was the only foreigner living in Mutianyu at that time, a sleepy village lying in the shadow of a section of the Great Wall passing through Beijing, and he felt all kinds of alarming thoughts passing through his mind as he hurried to the village office.
He found the head looking stoney-faced. "We have a serious problem," Li told him. "This is a village with a 500-year history and yet today, we are struggling to survive. Our population is aging and the young people are going away in search of jobs since there are no opportunities here. No one comes to invest here. So why don't you make an investment? If you do, maybe you can stop the village from emptying out."
Spear felt a little shock. He had been so preoccupied with his own affairs, trying to find his feet in Beijing after a succession of jobs, that he hadn't noticed the plight of the little village, though such circumstances were fast becoming a national dilemma. "I felt ashamed," he said. "I started exploring what I could do."
Since there weren't enough children in the village any more, some of the school houses had been abandoned. With his wife Tang Liang, whom he had met in California when he became interested in Chinese politics, language and culture and his professor recommended her as his Chinese tutor, Spear rented an empty school and opened a glass-blowing studio there. Villagers began learning how to make jewelry, vases and other knick-knacks to sell to tourists.
He also took over a dirty and dilapidated brickyard he stumbled on after finding a thin stream of smoke coming out of its rusted chimney, gave it a makeover while retaining much of its picturesque traditional architecture, like the decorated roof, and turned it into the Brickyard Retreat, a hotel-cum-restaurant.
"I have been restoring old buildings under the Great Wall, trying to provide an idea of what traditional architecture can become, by adding windows and modern bathrooms," Spear said. "We want the hotels and houses to be with modern 21st-century amenities while showing respect for the existing community and culture around us."
He has renovated over 40 one-story houses in the village, some of which are run as holiday stays and some as restaurants, contributing to small-scale sustainable tourism. Much of the land of these projects is used to grow trees and vegetables, providing local ingredients for food. Ninety percent of the employees are locals, from farmers to village housewives, a measure that is bringing back some of the migrant villagers as they can now find jobs on their doorstep.
"We want to be part of the local community which has been here since the Ming Dynasty [1368-1644]," Spear said. "We want to express our gratitude to them for allowing us to be here."
As part of the reciprocity, Spear and Tang's projects offer training to villagers and once a year they observe a Service Day, when the day's proceeds go to senior citizens in the village.
Wang Quan, Party chief of neighboring Beigou Village, said that since Spear took up residence in Mutianyu, other foreigners have followed and their "weekend houses" have inspired villagers to renovate their houses in an eastern-western style, creating an international atmosphere.
International cultural village
China's 13th Five-Year Plan (2016-20) seeks to build a high-end culture tourism industry and one of its units is the Great Wall International Cultural Village, a sprawling 17.8-square-km green area that actually comprises four villages, Mutianyu, Beigou, Tianxianyu and Xinying , most of which offer breathtaking glimpses of the Great Wall.
The four villages are rebuilding their economy based on "the Great Wall culture, chestnut culture and international culture." Following in Spear's footsteps, over 30 international investors have put their money into resorts, boutique hotels and upscale clubs nearby.
"In the past, Beigou was a very backward village. It didn't welcome people even from other villages, let alone foreigners," Wang said. "Since then it has changed a lot. Now, of the 150 families living here, almost 70 are foreigners. Once, even the most senior official in this village did not earn more than 4,500 yuan ($656) a year. Today, we have upscale hotels here, including one of Spear's that charges $1,000 per night."
The foreigners living in the village work in the city during the week and come home to let their hair down during the weekend. "When they come, they influence local people's lives with their ideas," Wang said. "Villagers have realized that if they stay the same, no one will come here. Foreign architectural ideas, for instance, have widened our horizons. When Spear built a hole in the roof, people thought it was for more light. But he said it was for looking at the sky and stars."
Beigou's tourism industry is based on visitors to the Mutianyu section of the Great Wall and weekenders and holiday makers who want to be far from the maddening city crowds. "Our village is very clean and environmentally friendly," Wang said. "Look at our lanes. You won't even find a cigarette butt."
Besides the tourism industry, villagers are cashing in on the famed Yanshan Mountain chestnuts grown here. Wang said almost every family grows 3,000 to 4,000 kg of chestnuts in their backyards each year, while in a good year the commercial production of the entire village can exceed 500,000 tons. Part of it is exported to Japan and Southeast Asia and part is processed into cakes.
The little village with its picturesque cottages and spanking clean lanes has been recognized as a "national demonstration village," one reason for which is the old age care center it runs for senior citizens whose children are working in other locations. "In the past, these residents' children had to visit their parents bearing all the required things for the entire year. But now they don't have to do that anymore. The center has eased the burden on sons and daughters living in cities," Wang said. Now the village is aiming to be recognized as one of the most beautiful villages in China.
Winning laurels
While Beigou is waiting for its dream recognition, Spear has already won his. He is a kind of celebrity in his own country with The New York Times interviewing his father to learn what made him move to China, and former First Lady Michelle Obama and her two daughters visiting one of his projects during their trip to China in 2014.
In China, three years ago, he was conferred the Great Wall Friendship Award, Beijing's highest award for foreign experts, by the Mayor of Beijing and one year later, received the Chinese Green Card, a rare privilege.
"I cried when I got the card," Spear said. "I felt extremely lucky and honored. It also gives me a big responsibility to do my best and contribute as well as be a good representative for my country and all foreigners who want to come here."
Spear is now building his new hotel project in Beigou. "The investment environment in China has been constantly improving," he said. "Otherwise, I would have gone back. After living in China for 30 years, I feel safe and secure."
Copyedited by Dominic James Madar
Comments to zanjifang@bjreview.com