Tourists watch a performance featuring local customs in the Xiannu Mountain National Tourism Resort in Chongqing on April 15 (XINHUA)
When "little brother Ma," a tour guide in north China's Tianjin, took out his "flag" and hung it on his flagpole, there were peals of laughter in the tourist coach. It was no conventional flag but a doll fashioned from a cartoon character, once his daughter's favorite toy.
"For the rest of the day, please remember this doll and follow it closely," he said.
The toy immediately endeared him to the children onboard, ranging from 4 to 12 years old, who were accompanied by their parents and grandparents. These were families from Beijing who had gone to neighboring Tianjin to get a quick taste of the city's scenery and culture on a spring weekend.
The tourists were first driven to an Italian-style street packed with visitors, including young girls wearing crowns of flowers. Then they visited China House, a ceramics museum; the Tianjin Eye, a giant Ferris wheel over the Haihe River, a landmark similar to the London Eye; and a historical street lined up with eateries and shops. The day concluded with a boat ride along the Haihe River near the place where it empties into the sea.
The tour was more than just sightseeing. During hiatuses, Ma good-humoredly briefed the group on Tianjin's history and the cultural difference between Beijing and Tianjin. Traditional Beijing men are he-men, even verging on the chauvinistic, whereas Tianjin men are caring and take care of the family by doing things generally regarded as women's work, he said.
Holding himself up as an example, he said, "My first stop after work is always a grocery store. Then I rush back home to cook dinner."
Children enjoyed the boat ride, accompanied by seagulls soaring above. They were especially fascinated by a clown and two "monkey kings" posing with visitors on a square near a historical street.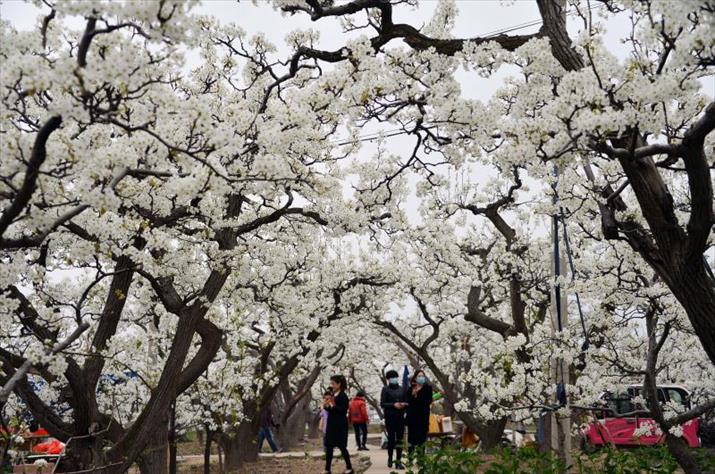 Visitors enjoy blooming pear blossoms in Yangxin County, Shandong Province, on April 8. The county has more than 6,000 hectares of pear trees (XINHUA)
Optimistic outlook
An elderly man in the group remarked that Tianjin was much more charming than the city he remembered visiting two decades ago. Now it has more stylish buildings and more attractive tourist programs, he said.
Spring is a peak travel season in China. As trees turn green and flowers bloom, people across the country come out to embrace the rejuvenating season. The result is a tourist wave rippling across the country.
In a period of three days near the Qingming Festival in early April, 93 million visits to various tourist spots were made all over the country, yielding a total income of 39 billion yuan ($5.7 billion), according to China National Tourism Administration figures.
In Beijing, tourists swarmed to famous historical places such as the Palace Museum, the Summer Palace and the Beihai Park, and other parks featuring various flowers in full bloom.
In February, the China Tourism Academy (CTA) released an optimistic forecast about the tourism industry in 2017. It stated that "domestic tourism will continue to grow and outbound tourism will develop rationally, while inbound tourism will continue to pick up. Tourism investment will remain high and tourism employment will grow steadily."
Last year, China's scenic sites received more than 4.4 billion visits by tourists from both home and abroad, which generated a total tourism income of 4.69 trillion yuan ($681.4 billion), 13.6 percent more than the previous year, according to the report.
The sector has also become more competitive internationally, according to the Travel and Tourism Competitiveness Report 2017 released by the World Economic Forum in early April. The report ranked the tourism industries of 136 economies and China is in the 15th position, two places ahead than that of the previous year.
In 2016, foreign tourists paid 57 million visits to China, accounting for more than 20 percent of all international visits to Asia, the report said. China's cultural resources ranked the first in the world and its natural resources the fifth. The rise in China's competitiveness is attributed to its increased international openness, improved information and communications technology, and better tourism infrastructure and service quality.
To further improve the ranking, the report suggested that the accommodation capacity outside large cities be increased and the business and natural environment improved.
Freewheelers to the fore
Beijinger Wang Li is a frequent traveler. Rather than following tour guides, he prefers to blaze his own trails.
Athletic and outdoorish, he likes to hike in mountains. On holidays, he often drives to the mountains, taking his two young sons along. "The world is so big; I would like to take them to see it," he remarked under their travel photos he shared through WeChat.
"Nowadays, tourists are mostly free walkers who attach importance to experiencing the lifestyle of their destinations," Dai Bin, President of CTA, said.
He cited statistics showing that group tours organized by travel agencies account for only a small share of the tourism market: 35 percent of outbound visits, 15 percent of inbound visits and 4 percent of domestic visits. The majority of tourists are freewheelers.
Internet technology these days offers ample transportation, accommodation, catering and entertainment choices for backpackers, so their individualized needs can be met.
The rise of budget hotel chains in China, such as Home Inn, makes accommodation affordable, and travel platforms, such as Tujia.com, make short-term room renting at home and abroad convenient.
"Individual tourists have more freedom, and they put more and more emphasis on gaining in-depth experience of locals' life outside of traditional scenic spots in the destinations," Dai said.
This new trend creates new requirements for tourism management. Dai said that in the past, tourists had little travel experience and low expectations. As long as they came across some scenic spots different from what they saw in their daily life, they were happy. But as tourists become more experienced and sophisticated, they have higher expectations.
In this new scenario, tourism development and management are not only needed to improve scenic areas and supervise travel agencies and tour guides, but also to make the destination cities more attractive overall.
In many cities, "the modern side of them, besides traditional scenic spots, has become the biggest attraction for tourists," Dai said. Beijing's cultural milieu, Guangzhou's meeting and exhibition industry, and the entrepreneurial atmosphere in areas such as Hangzhou and Suzhou lure tourists to them. In addition to traditional facilities such as theme parks, cinemas and malls, tourists also like cafes, bike-sharing facilities and other innovative things that can meet the leisure needs of young people.
"As cities become more modern and residents' life happier, people from other places will come to enjoy their qualify lifestyle," Dai said. There was no place in the world that tourists would love if the locals are unwilling to live there, he added.
A major tourist destination, China attracts so many tourists because of its vast land and rich resources, long history and relatively safe environment, said a netizen with the user name Mu Shao'ai, commenting on how to make China's tourism industry stronger.
Nonetheless, as a person who frequently travels overseas, Mu felt China still lags behind some top-notch international tourist destinations in terms of services and tourism management.
He illustrated his point with examples. When he traveled to Turkey's Istanbul on a weekend, he saw volunteers, mostly students, around major scenic spots, wearing "Ask me" T-shirts and answering tourists' inquiries in English. Foreign backpackers on Beijing's streets could hardly get such voluntary service, he remarked.
He also pointed out that some scenic areas in China are not well managed. They are littered and some relics have been vandalized. Then there are service providers who charge tourists exorbitantly high prices, while some souvenirs are shoddy.
An anonymous netizen who has traveled to many places at home and abroad agreed that in China, foreign freewheelers encounter many difficulties. Some scenic spots are overly commercialized, and the suggestion is that more emphasis be put on introducing traditional culture to tourists.
Then there is the language obstacle. The netizen said that except metropolitan cities like Beijing, Shanghai and Guangzhou, few others have road signs in English. An Italian tourist traveling in smaller cities once complained that he could not read the Baidu map, which is in Chinese. And when he asked for directions on the street, few people could explain.
Copyedited by Sudeshna Sarkar
Comments to wanghairong@bjreview.com