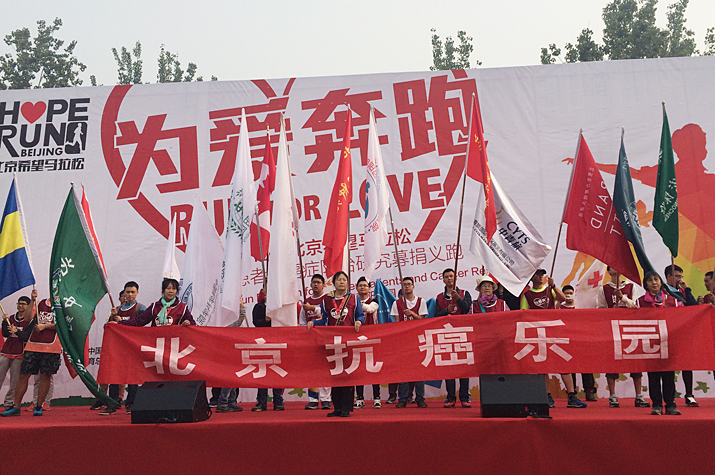 The 17th Beijing Hope Run takes place at Chaoyang Park on October 17 (CHEN RAN)
On the evening of October 17, Li Pingsheng posted a picture with a medal on which was inscribed "Run for Love" on his WeChat. The award came from the 17th Beijing Hope Run he had participated in that morning at Chaoyang Park.
"It was my first time I did the run. My wife also joined me, which made me feel great!" the retired police officer told Beijing Review .
Li received medical treatment for lung cancer last year. "I was shocked when my checkup results came in, and kept asking, 'Why me?'" Li recalled. "But when I began chemotherapy, I made up my mind to beat it. I always cheered up my fellow patients in the hospital, because I believe that morale is vital for cancer survivors and their families."
Li's friend from the Beijing Anti-Cancer Paradise, a non-profit organization launched by and for cancer survivors city-wide, told him about the Beijing Hope Run. "I said 'I'm in' without any hesitation," Li said.
The run was primarily organized and held by the Cancer Institute and Hospital (CIH) at the Chinese Academy of Medical Sciences in partnership with the China Cancer Foundation. The Embassy of Canada in Beijing and the Chaoyang District Health Bureau contributed to coordination efforts.
According to He Jie, President of the CIH, more than 280,000 people have participated in the run since 1999, and over 10 million yuan ($1.6 million) has been raised for cancer research and treatment in China through the annual event.
The Beijing Hope Run was inspired in part by the Terry Fox Run, which was the largest single day cancer fundraiser in the world. The run was held in memory of Terry Fox, a Canadian bone cancer patient who ran 5,373 km across Canada in 143 days whilst battling the illness in order to raise funds for cancer research in 1980.
"I would like to influence more friends to show their support," Li said. "Together, we can make a difference."