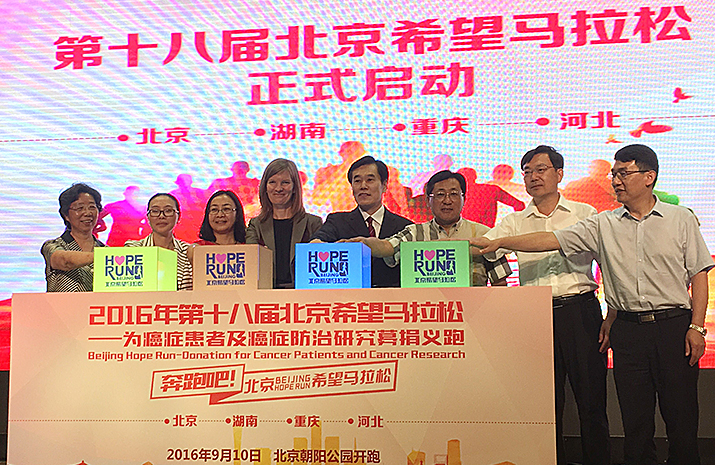 The launch ceremony of the 18th Beijing Hope Run is held on August 3 in Beijing (CHEN RAN)
The 18th Beijing Hope Run will take place at 9 a.m. on September 10 in Beijing's Chaoyang Park. Actor Deng Chao was appointed as the event's goodwill ambassador.
The run was primarily organized by the Cancer Institute and Hospital (CIH) at the Chinese Academy of Medical Sciences in partnership with the China Cancer Foundation. The Canadian Embassy in Beijing was among the contributors in the coordination efforts. Other places such as Hunan, Chongqing, and Hebei will also host their own Hope Run, to show solidarity in fighting against cancer.
According to He Jie, President of the CIH, more than 290,000 people have participated in the run since 1999, and over 10 million yuan ($1.55 million) has been raised for cancer research and treatment in China through the annual event.
The Beijing Hope Run was inspired in part by the Terry Fox Run, which was the largest single day cancer fundraiser in the world. The run was held in memory of Terry Fox, a Canadian bone cancer patient who ran 5,373 km across Canada in 143 days whilst battling the illness in order to raise funds for cancer research in 1980.
Copyedited by Dominic James Madar
Comments to chenran@bjreview.com