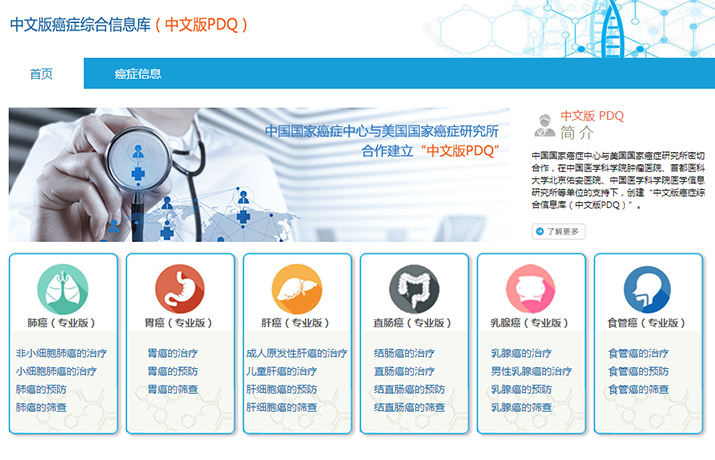 Screenshot of Chinese webstie version of PDQ (FILE)
The Chinese website version of the Physician Data Query (PDQ) was launched on June 29 in a bid to facilitate Chinese medical professionals with cancer-related information. The version for ordinary people will be launched soon.
Initiated in 2012, the project has translated cancer prevention, screening and treatment information on the top six killers in China, namely lung cancer, breast cancer, colorectal cancer, stomach cancer, esophagus cancer and liver cancer, from English to Chinese.
"The website will improve international communication on anti-cancer authoritative information, as well as providing new approaches for Chinese medical staff and patients to acquire the latest information," said He Jie, head of China's National Cancer Center.
"It is the latest fruit of joint efforts between China's National Cancer Center and the United States' National Cancer Institute (NCI) to fight against cancer. The collaboration is part of highlights of my career," noted Dr. Barnett Kramer, Director of NCI's Division of Cancer Prevention.
Created in 1977, the PDQ is the NCI's comprehensive source of cancer information. Besides Chinese, it is also available in English, Spanish, Japanese and Arabic.