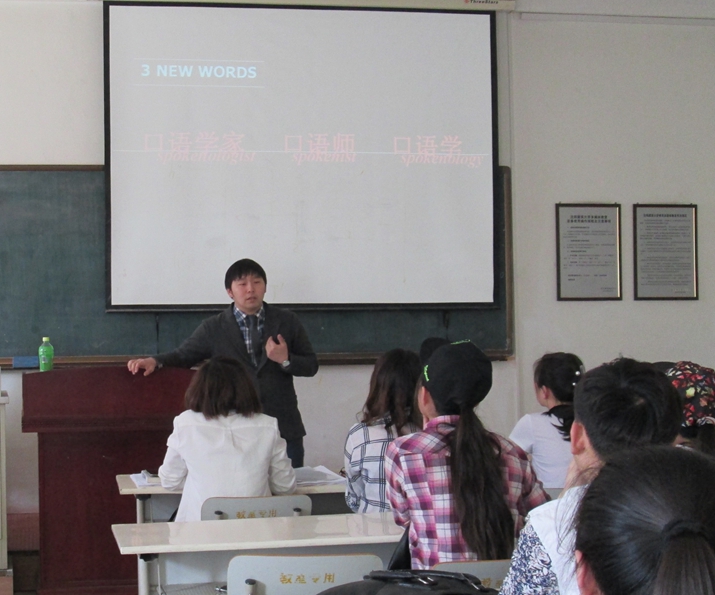 Luke Shen-Tien Chi gives a lecture at Shenyang Jianzhu University in northeast China's Liaoning Province (COURTESY OF LUKE SHEN-TIEN CHI)
When he first set foot in Shanghai in 2008, Luke Shen-Tien Chi, a former U.S. movie marketer, never imagined that his two-way plane ticket wouldn't take him back home. Neither did he expect he would become a spoken English educator in China, furthering the knowledge and science about learning to speak foreign languages.
His first textbook, Spokenology: You and Me, is due to be published in September by prominent academic and educational publishing house—Tsinghua University Press.
The word "Spokenology" is a new term coined by Chi. It is a spoken language teaching discipline that aims to help English learners communicate with people from different backgrounds freely and flexibly. According to Chi, an academic who specializes in the methodology of spoken language teaching is a "Spokenologist," while a person who specializes in the art of teaching a spoken language to others is a "Spokenist."
The book consists of two parts: topics for speaking and the science of speaking. In the first section, diverse topics, ranging from greeting strangers to amusement, are offered to prepare learners to engage in international and interpersonal communication. The second part is devoted to an academic study of issues, such as the learning process of speakers, spoken English capacity, the audience and human interaction.
The purpose of the book is to help learners gain a good command of spoken English through a sequence of steps, wrote Chi. The book teaches learners not only how to speak, but how to speak "properly," Chi added.
According to a quote from The Bible, a word appropriately spoken is like apples of gold in pictures of silver. Students in China, however, often misplace such golden apples while communicating in foreign languages. A significant proportion of Chinese college students perform poorly at interpersonal communication in English, according to a study conducted in 2008 by Liu Qin, head of the Foreign Languages School at the University of Shanghai for Science and Technology.
Chi's experience supported the survey's finding. Most Chinese students he met for the first time responded to his statements and questions in almost identical ways. When he said "Nice to meet you!" for example, many would simply duplicate his words, "Nice to meet you, too!" When he asked, "What's your name?" all would respond formulaically, "My name is …" It seemed to Chi that few students could speak flexibly with varied wording and conversational order.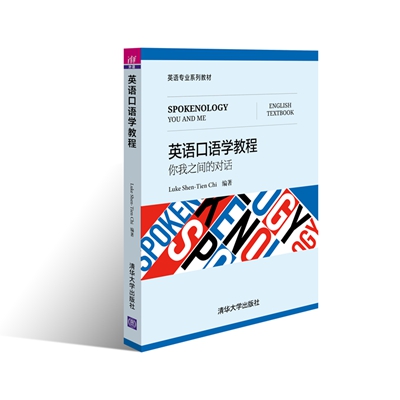 New thinking
Chi started teaching English at a language training school in Shenyang, capital city of northeast China's Liaoning Province, two months after his arrival. Later, he fell in love with a fellow Chinese English teacher and subsequently got married.
In January 2010, Chi began teaching privately in his rented apartment. "My teaching quality was poor in that particular time," Chi recalled. Although he had one year of prior teaching experience, he lacked knowledge about how to instruct students effectively.
To find a suitable book for spoken English language instruction, he purchased and reviewed several past and current textbooks. Yet, he found that most textbooks focused on practice dialogues to enable learners to gain fluency in speaking. Chi frowned on this kind of language instruction, refuting the practice as "typically simplistic and dogmatic."
To improve his teaching, and encouraged by his wife, Chi started writing his first spoken English textbook, which he intended to be practical while also teaching the principles of speaking appropriately.
It took Chi over six years to complete his first book. On October 23, 2013, he initiated a non-profit experimental research project at Liaoning University in Shenyang. The 13-month-long project provided him with firsthand data about learners' cognitive behavior.
In 2015, he delivered free lectures on spoken English at four major colleges and universities in Shenyang, and in the same year, he became a lecturer at Shenyang Normal University, where he founded the Spokenology Association.
The book soon to be published has undergone 15 revisions, though for Chi, "it may be complete but is never absolutely done." He sees each book as a life-long task and aims to keep enriching it.
"It ushers in a brand new concept and method of spoken language teaching," Liu Xizhen, an editor with Tsinghua University Press, told Beijing Review. It focuses not only on the "evolution" of interpersonal communication, but also on the underlying principles of spoken language learning. "It encourages learners to get rid of learning by rote," Liu added.
"Unlike other English teachers, who try hard to fill us with sentence patterns, Chi encourages us to use varied topics to engage in a conversation in English in particular situations," Chen Jinyu, a first-year university student at Shenyang City University's School of Foreign Language and Culture, told Beijing Review.
For instance, Chi warns against duplication in daily interaction. "Nobody is willing to communicate with a duplicator," said Chi. Take meeting for instance. When responding to "Nice to meet you!" one should replace the word "nice" with other similar words, such as "glad," "happy" or "honored," so the dialogue will not be stiff and awkward.
Homecoming
Chi didn't intend to become a teacher. As an American-born Chinese, he came to China in 2008 only wanting to engage in a cultural learning experience in order to understand more about his ancestral background.
Chi is a descendant of Sheng Xuanhuai (1844-1916), founder of Peiyang University, China's first institution of modern higher education, established in 1895, which was the forerunner of Tianjin University in north China's Tianjin Municipality. One year later, Sheng founded Jiaotong University, which subsequently divided into two institutions of the same name situated in Shanghai and Xi'an, capital of northwest China's Shaanxi Province.
Chi's parents moved to the United States in 1977. One year later, Chi was born in Mountain View, California. Before coming to China, he worked in the film industry and occasionally traveled with Grammy Award-nominated artists in Nashville, Tennessee. He enjoyed both his career and life in Nashville, nicknamed Music City U.S.A.
But he often thought about coming to China. "What's it like on the other side of the world?" Chi wondered. The knowledge about Sheng, his great-great-grandfather, also amazed him. Although he felt anxious at the prospect of leaving the United States, Chi, nonetheless, decided to embark on his overseas adventure in 2008. By coincidence, he landed in China on November 4, Sheng's birthday, a fact which Chi discovered only later during his teaching career.
"Destiny is quite funny," Chi told Beijing Review. Though never having planned a career in education, some 164 years after Sheng's birth, he in fact became a teacher in his ancestor's birthplace.
Though not sure about what changes may unfold in the future, Chi said that he is firm with his choice and did not stop writing and teaching even when his friends tried to steer him in a different direction. "I stay true to my belief that good things happen to those who work hard," said Chi.
Profile
Luke Shen-Tien Chi was born in California, the United States, in 1978. He is a descendant of Sheng Xuanhuai (1844-1916), founder of Peiyang University, China's first modern higher education institution.
Chi first came to China in 2008 and has been teaching spoken English in Liaoning Province. Currently, he teaches at Shenyang Normal University. His new book Spokenology: You and Me emphasizes both the skills and the science of English speaking.
(Lu Yan contributed to the story)
Copyedited by Chris Surtees
Comments to linan@bjreview.com