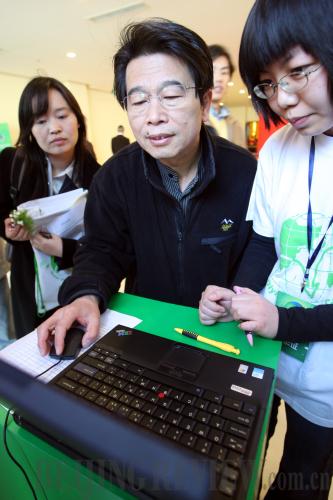 HOT BLOGGER: Du Shaozhong (center), Deputy Director of the Beijing Municipal Environmental Protection Bureau, is the first government spokesman in Beijing to communicate with the public with a micro-blog (CFP) 
According to the IOSMG, more than 600 government agencies and 300 government officials in Shanghai have verified micro-blog accounts. The official account of Shanghai's metro operator, which has more than 1.15 million followers, was fourth on the list of the top 10 government micro-blogs on Sina Weibo in 2011.
Liao Shengqing, Director of the Co-mmunication Department at the Shanghai-based Fudan University, attributes the boom to a change in the style of the government's operation.
"The administration used to follow a strict hierarchy, and everything went from the top down. But nowadays the administration is becoming more flat, indicating that some previous barriers are being removed and messages can spread faster," he said. "The team working on the Shanghai City micro-blog is, as far as I am concerned, working in the interest of local residents, on which they should keep focusing in the future."
The Ministry of Foreign Affairs was the first Central Government department to have a micro-blog. Its account "Waijiao Xiaolingtong" (Diplomacy Source) went online in April 2011, and has had nearly 1.25 million followers.
In addition to releasing information about top Chinese leaders' diplomatic activities and providing contact information to overseas Chinese when emergencies occur, the micro-blog also shares with netizens the experiences of diplomats working abroad and introduces norms of courtesy and good behavior in international dealings such as proper table manners.
"It is hoped that more government departments will join in and open their own official micro-blogs," said Gong Yufeng, who oversees the micro-blog of the Ministry of Foreign Affairs.
Government micro-blogs have also helped more people, especially residents in economically developed regions, participate in public affairs.
Last year, the government of Nan-hai District in Foshan City, south China's Guangdong Province released real-time information about local elections on its official micro-blog, in the hopes of putting the whole process under broader public supervision.
"Micro-blogs have played a significant role in improving the government's decision-making process, reducing mistakes and curbing corruption," said Wang Yukai at the CAG.
Zhu Huaxin, Secretary General of the Department of Public Sentiment Monitoring of People.com.cn, said that government micro-blogs provide a platform that encourages the country's silent majority to express their opinions, and those concerns can now come to the attention of decision-makers faster than ever before.
"It is a revolutionary change for the country's officials at every level," he said. However, he added that officials have a long way to go in terms of creating opportunities for frank, equal and timely exchanges that will allow the administration to take full advantage of the potential of micro-blogs.
Adjusting for demand
Although the number of government micro-blogs almost quadrupled in 2011, these blogs are not evenly distributed throughout the country, according to the report released by Sina Weibo and People.com.cn.
Economically developed regions, including east, south and north China, have more government micro-blogs than in less developed central and west China.
There are also differences between government departments even in developed regions such as Beijing.