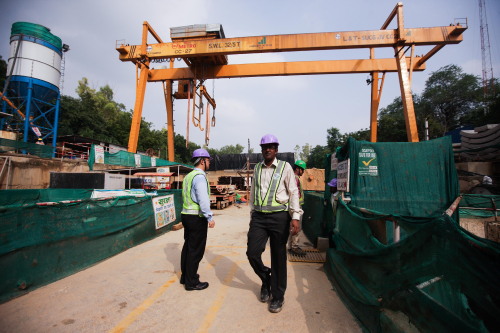 CONSTRUCTION UNDER WAY: Workers from Shanghai Urban Construction Group at a construction site of a subway in New Delhi on September 6, 2014. Ever since entering the Indian market in 2007, the group has finished (ZHENG HUANSONG)
Beijing Review presents a series of edited excerpts of essays written by foreign experts from countries that will be affected by the 21st Century Maritime Silk Road initiative. Each of our contributors offers a unique perspective on the opportunities and obstacles inherent in this ambitious, collaborative and far-reaching initiative.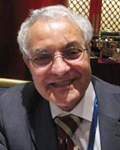 Mohamed Noman Galal (former Egyptian Ambassador to China and a scholar on Chinese studies)
The 21st Century Maritime Silk Road and the new Suez Canal project launched by Egypt in 2014 can work together to promote Arab-Chinese trade and cultural relations. These relations date back to the ninth century. If history could guide the future relations, one could anticipate that the new Maritime Silk Road will contribute immensely to the development of these relations to a new and unprecedented level. The Chinese and the Arabs represent two pillars of the 21st-century global economy--both in terms of economic relations and cultural interaction.
The new Suez Canal is under construction and should be fully functional within two years. This new Suez Canal will provide a waterway for big tankers and ships to cross from the Red Sea to the Mediterranean, carrying goods from Asia to Europe and vice versa. Additionally, it will also feature economic zones and cultural centers on its banks. Along with the new Maritime Silk Road from China to Europe, it will be a pillar for the enhancement of trade and communication. Thus the prospects of the new initiative on the Arab-Chinese relations will be immense.
The New Maritime Silk Road and the Silk Road Economic Belt, which was also proposed by President Xi while visiting Kazakhstan in September 2013, along with the new Suez Canal, will be three mainstays to world trade and the global economy. They will strengthen Chinese economic, trade and cultural relations with the whole world. Thus, they will represent a new civilization based on Chinese traditions, concepts, principles and values as well as its vision for international relations.
The new global civilization will be promoted in the 21st century by China and Egypt as one that is based on harmony, cooperation and reconciliation rather than wars and cut-throat competition that prevailed in the 19th and 20th centuries under Europe and America. This new civilization will be a reflection of the Arab Muslim intrinsic ingredient of a peaceful approach and Chinese traditional culture based on the concept of harmony. It should be noted that neither the Egyptians nor the Chinese have a missionary history.
I anticipate the One Belt and One Road initiatives and the new Suez Canal will have an unprecedented contribution, in an innovative way, to develop China, Egypt and the world at the same time. China and Arab countries have the factors to achieve outstanding economic development through beneficial cooperation, with each boasting human resources, vast markets, and natural resources. Some Arab countries today are facing political unrest that affects their economic development. They are in need of Chinese support--particularly Egypt, which has a long tradition of friendship with China. Today, China needs Arab gas and oil as well as Arab markets. They could complement each other in any industrial or additional projects from which both sides will benefit.
China has come to African and Arab countries to help develop their infrastructure, build schools and hospitals, and train their human resources. In the future, this will be a credit and a great asset to Chinese-Arab and African cooperation. It will be a landmark as well as a benchmark for future cooperation with Western countries.
China in the past was keen on exclusively developing trade ties, contrary to modern Europe that promoted colonialism under the guise of civilization and Christianity. China in the future will continue to build a world civilization through dialogue, trade and investment. Egypt and the Arab world, in turn, will contribute in the same way. This will consolidate globalization with soft power as a base rather than dominating globalization through hard power.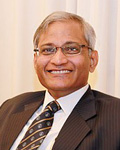 Srikanth Kondapalli (a professor at the Center for East Asian Studies at Jawaharlal Nehru University in New Delhi, India)
President Xi Jinping, on a visit to Kazakhstan in September 2013, called for adopting an innovative model of cooperation in building the new economic corridor connecting China with Central Asia and Europe, better known as the Silk Road Economic Belt. Subsequently, during his visit to Indonesia in October of the year, Xi proposed the idea of the 21st Century Maritime Silk Road connecting China with Southeast Asia, the Indian Ocean and Africa. Major benefits of the initiatives include supplying sustainable energy to energy-starved countries, enhancing mutually beneficial trade between regional countries, expanding tourism and providing more avenues for strategic engagement in the post-Cold War era.
As the second largest economy in the world today, China is poised to take advantage of these initiatives. Politically, recent trends demonstrate China's outward orientation as it seeks a more active presence in the emerging global and regional orders.
Economically, these strategic initiatives will help China restructure its economic model from inviting foreign investment and establishing export-oriented joint ventures and special economic zones to that of exporting capital initially for infrastructure development and establishing manufacturing zones abroad. As the largest trading partner of over 128 countries and regions, China aims to enhance mutual economic interdependence across vast swathes of regions.
Strategically, these initiatives could cushion China well within its defined "good-neighborliness" policy and overcome any effects of the United States' "rebalancing" in the region. As American pressure mounted on China to be a "responsible power" and "security provider" in the last decade, Beijing's initiative provides fresh opportunities in the diplomatic sphere at the least, and at most offers leverage in the global and regional power transitions of the 21st century.
However, these ambitious projects face acute, if not insurmountable, difficulties.
Firstly, much of the area that the continental and the Silk Road belt pass through is prone to terrorist attacks. Southwest and Central Asia have seen a sharp rise in terrorism in the last decade targeting innocent civilians and infrastructure projects as well. Multibillion-dollar projects such as the Iran-Pakistan-India and Turkmenistan-Afghanistan-Pakistan-India gas pipeline projects have not been completed partly due to instability in the region. These attacks have spilled over even in China's Xinjiang and beyond. And on the maritime routes, piracy incidents in the South China Sea and the Gulf of Aden pose challenges. Indeed, more than half of piracy incidents globally were in Southeast Asia in 2014. These could be resolved with bilateral and multilateral efforts.
Secondly, China and other countries need to consider the clashing sovereignties in the regions where the Silk Road and infrastructure projects are to be built. While China has resolved 12 of its 14 land-based territorial disputes, India is expressing reservations on projects passing through Kashmir's northern areas. The South China Sea is also an area of contention. These issues could be resolved through bilateral and multilateral coordination.