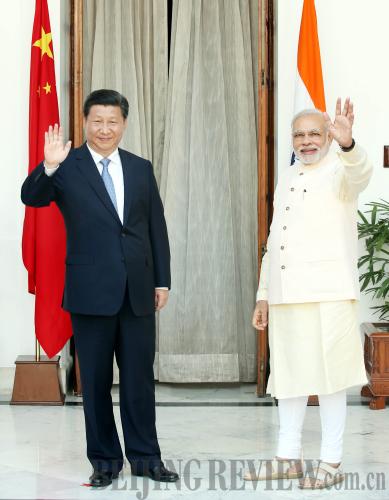 CHINDIA: Chinese President Xi Jinping and Indian Prime Minister Narendra Modi greet the media in New Delhi, India, on September 18, 2014 (YAO DAWEI)
Kuo is more outspoken. "Many Chinese friends of mine said they enjoy Indian food, Bollywood films, and some profess to like Indian music," he said. "But most also carry many prejudicial notions about India: it's unsanitary, underdeveloped, chaotic, corrupt, held back by primitive religion and a horrifically unfair caste system."
The way forward
So how can the gulf be bridged? Sharma says the Indian media don't give much space to foreign news, "Most newspapers have one page on overseas news. Most don't even have foreign correspondents. So there are little people in India get to read about China. Unless there is more space for China news, people will continue to live with the view they have had for long. Nothing will change."
The number of Indian reporters in Beijing and Chinese reporters in India is also inadequate. Cai Mingzhao, then Minister of the Information Office of the State Council of China, told Xinhua News Agency in 2013, "I suggest that media of both countries carry out extensive cooperation in mutual visits, article exchanges and joint interviews. I hope that they could gradually station more reporters in each other's country, or send more reporters to each other's country to conduct interviews, meet local residents, and gather real, fresh and first-hand information."
There has been some encouraging cooperation. In May 2013, when Chinese Premier Li Keqiang visited India, his message was sent out through an article by him, A Handshake Across the Himalayas, that was published in two well-read Indian newspapers, The Hindu and Dainik Jagaran. The same month, the then Chinese Ambassador to India, Wei Wei, wrote an article in The Hindu, outlining Five Basics to Handle Our Border Differences.
NGOs, research institutions and other bodies have been playing an important role in the ice-breaking. Organizations like the India China Economic and Cultural Council in New Delhi and China-India Friendship Association in China have been promoting bilateral interactions. They agreed that "cultural exchanges between China and India should be elevated to a higher level and touch the hearts of the people."
"The media focuses not on the mundane but the dramatic and that has a negative cast," said Baidu's Kuo. "I would love to have the media show the every-day lives of ordinary people in India, entrepreneurs, people doing great things all over the world."
Palit thought both sides should increasingly start realizing the significance and importance of living with each other: "Both [are] large, populous, expanding and strategically important countries. This makes them important not only for each other but also for the region and the world."
The author is a consultant with the ChinAfrica magazine
Email us at: liuyunyun@bjreview.com