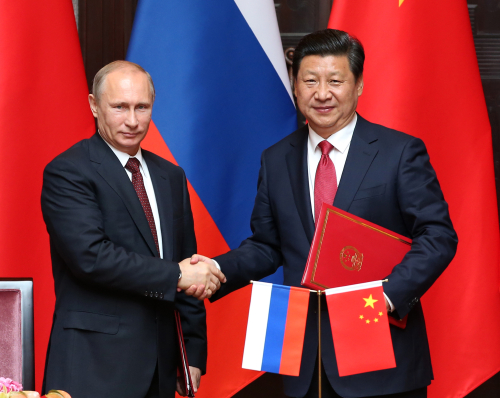 ADVANCING PARTNERSHIPS: Chinese President Xi Jinping and Russian President Vladimir Putin sign a joint statement to expand cooperation in all fields and coordinate diplomatic efforts in Shanghai on May 20, 2014 (PANG XINGLEI)
China's diplomacy experienced a "bumper harvest" in 2014, said Chinese Foreign Minister Wang Yi at a symposium held at the year's end. On the brink of a new year, China had established 72 partnerships in various forms and at differing levels with 67 countries and five regions and regional organizations--an outreach effort spanning all major countries and regions of the world.
Global partnership network
According to Wang, China's diplomatic practices over the past two decades and more have created a global network of partnerships. These collective efforts have enhanced the strategic and global dimension of China's international relations. "A partnership does not mean giving up principles," Wang noted, adding, "China will continue to follow an independent foreign policy of peace in international affairs, and manage issues based on objective and fair assessments."
The concept of a "partnership" has grown in popularity since the end of the Cold War. At that time, taking advantage of its Cold War victory, NATO began promoting its plan of Partnership for Peace worldwide while seeking expansion to the east, actively establishing partnerships with non-NATO countries. Along with the rapid growth of the Chinese economy over the past decades, drawing from its historical advantages and learning from international experience, China began to expand its global reach by establishing partnerships with neighboring countries.
After 20 years of efforts, China has established numerous types of partnerships with countries, groups of nations, and international organizations in many regions, including comprehensive cooperation partnerships, strategic cooperation partnerships, comprehensive strategic partnerships, all-round strategic partnerships, strategic partnerships of cooperation, strategic partnerships, friendly and cooperative partnerships, comprehensive friendly and cooperative partnerships as well as strategic relationships of mutual benefit. Among these partnerships, Pakistan is China's sole all-weather strategic partner and its most highly trusted friend.
Since President Xi Jinping took office, China has changed from reactive to proactive in its approach to international relations with the goal of protecting its national interests and expanding its influence on a global scale.
At the Central Work Conference on Foreign Affairs held last November, Xi proposed the creation of a global partnership network, making more friends while adhering to the nonalignment principle.
"Nonalignment" has been one of the core principles of Chinese diplomacy since the founding of the People's Republic of China in 1949. But along with the country's rise as a global power, some scholars and officials in China's diplomatic circle have raised doubts about the principle. Now, the global partnership network strategy has asserted that alignment is the product of the past--an outmoded approach that features confrontation aimed at an outside party, thus it does not conform to the current era of globalization and multipolarization. To create a favorable external environment for comprehensive in-depth reform, Chinese diplomacy should creatively adhere to the nonalignment principle, seeking productive partnerships rather than forming alliances.
Free-ride diplomacy
The world is currently undergoing a crucial post-Cold War transitional period, with an emerging character of multipolarization. No country alone can solve the traditional and new security threats and development challenges facing the international community. Even the United States, the world's sole superpower, is also adjusting its strategy to handle international affairs by relying more on the power of its allies and multilateral platforms. In keeping with its principles, China has declined to form alliances or seek a sphere of influence. Instead, it has actively conducted its global partnership diplomacy, seeking global support for its peaceful development.
Most of China's partners, like itself, are developing countries. Almost all developing and neighboring countries are partners of China. China knows that no matter how economically strong it might be in the future, it will need the sincere support of developing countries. The main approach by which China forms partnerships with developing countries is to provide a "free ride" for them to share the fruits of China's development, thereby contributing to global prosperity and promoting world peace.