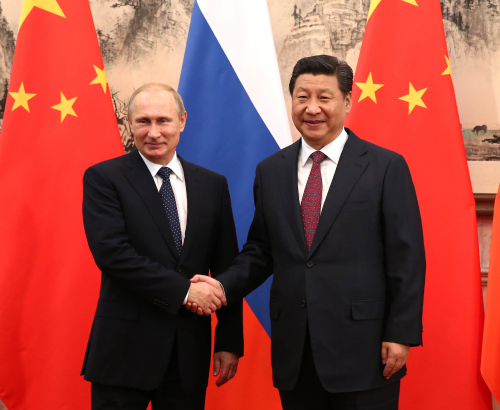 FRIENDSHIP RENEWED: Chinese President Xi Jinping meets with his Russian counterpart Vladimir Putin in Beijing on November 9 (LAN HONGGUANG)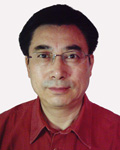 During their meeting on November 9, Chinese President Xi Jinping said to Vladimir Putin that close contact between leaders of the two neighbors have led to an "evergreen" bilateral friendship and cooperation.
Xi also said that the duo have maintained close communication this year, achieving fruitful results in their design and strategic guidance for Sino-Russian ties as well as in the cultivation of a lasting cooperative and friendly relationship between the two sides.
Xi has met Putin 10 times since he assumed presidency in March 2013.
Putin, who was in Beijing to attend the annual Asia-Pacific Economic Leaders' Meeting on November 10-11, especially hailed the comprehensive strategic partnership of coordination between the two countries, describing it as Moscow's top foreign policy priority.
Common challenges
On December 27, 1991, just two days after the Soviet Union was dismantled, China recognized the Russian Federation and entered into diplomatic relations with it at the ambassadorial level. The relations between China and Russia have since maintained strong developmental momentum. They have continuously deepened their cooperation in many fields.
China and Russia have established four principles to develop their bilateral relations—no confrontation, no alignment, no interference in each other's internal affairs and mutual respect. For more than two decades, these principles have proved correct by practice and facts. The signing of the Treaty of Good-Neighborliness and Friendly Cooperation on July l6, 2001 was a historic landmark in Sino-Russian relations.
Despite a complicated international situation, China and Russia have kept sound and firm ties, which is a rare feat in relations between big countries. With their relationship evolving from "partnership" to "strategic partnership of coordination" and finally to "comprehensive strategic partnership of coordination," the bilateral political mutual trust, practical cooperation, people-to-people exchanges and strategic coordination have reached an unprecedented level.
The lasting friendship between China and Russia can also be attributed to their broad range of common interests. The two countries share a 4,300-km-long border. Border security is an important concern for both sides. Only with a stable and peaceful border can China and Russia focus on construction and economic development at home. Leaders of the two countries are fully aware of the great importance of bilateral ties. They honestly seek to maintain a long-term good-neighborliness and friendliness. Such clear and resolute political will has laid a solid foundation for continuously improving Sino-Russian relationship.
Geopolitical conditions and strategic security concerns have impelled China and Russia to strengthen cooperation. For example, the two counties are faced with common challenges and threats from international terrorism, national separatism and religious extremism. They strongly support one another on issues concerning their respective core interests including national sovereignty, security and development.
After the Cold War ended, the world political structure has undergone drastic changes. Under such circumstances, China and Russia agreed to build a strategic partnership of coordination in 1996. This strategic collaboration, however, has not been aimed at any outside country.