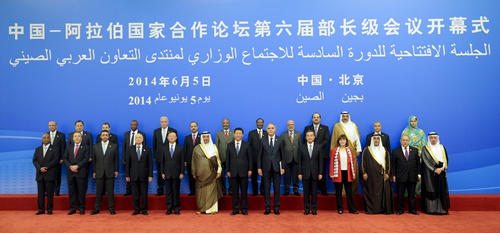 SINO-ARAB REUNION: Chinese President Xi Jinping takes a group photo with representatives from Arab states at the Sixth Ministerial Conference of the China-Arab States Cooperation Forum in Beijing on June 5 (ZHANG DUO)
When a group of Arab states launched their "looking to the East" strategy several years ago, their aim to seek development opportunities in the Far East held China as one of its major targets. Now, China and Arab states are picking up the pace for broader cooperation as the former moves to open up to its west by building "one belt and one road"—namely, the Silk Road Economic Belt and the 21st Century Maritime Silk Road.
At the Sixth Ministerial Conference of the China-Arab States Cooperation Forum (CASCF) recently concluded in Beijing, Chinese President Xi Jinping outlined top-level plans for cooperation with Arab states. The two sides have also mapped out a 10-year development plan for future cooperation, aiming to upgrade Sino-Arab relations.
Analysts noted that Xi's proposal and China's "one belt and one road" strategy bring new opportunities for Sino-Arab cooperation. The new framework adopted at the CASCF Ministerial Conference demonstrates the desire of both sides to forge in-depth ties and elevate the Sino-Arab strategic partnership to a new level.
New initiatives
At the opening ceremony of the CASCF conference, President Xi proposed a comprehensive Sino-Arab cooperation strategy when delivering a keynote address, dubbed "1+2+3": One refers to energy cooperation; two refers to improving trade and investment as well as cooperation in infrastructure construction; and the two sides' cooperation in the three new sectors of nuclear energy, aerospace technology and new energy should be enhanced.
Li Shaoxian, Vice President of the China Institutes of Contemporary International Relations, said there was a misunderstanding in the past that Sino-Arab relations equated to the oil trade.
For instance, Li said, of the $240 billion bilateral trade volume between China and Arab states in 2013, $130 billion came from activities other than the oil and gas trade. "Energy cooperation is the centerpiece of Sino-Arab relations, but the 1+2+3 strategy proposed by President Xi will further enrich the content of cooperation between China and the Arab world."
Li Guofu, a senior research fellow with the China Institute of International Studies (CIIS), said the 1+2+3 cooperation framework can be seen as the pinnacle of the Sino-Arab collaborative mission.
The senior researcher further explained that energy is the traditional field of cooperation between the two sides, which has allowed for the formation of mature and stable overall relations. Having energy cooperation as the main axis means deepening cooperation for the whole industrial chain of oil and natural gas, ensuring the safety of energy transport routes as well as establishing a mutually beneficial, safe and reliable Sino-Arab relationship.
Infrastructure construction cooperation highlights both the Arab states' demand and China's advantage. Meanwhile, by improving trade and investment, China can help Arab countries promote industrialization and create jobs, said Li of the CIIS. And the third part of the strategy is helpful in creating new growth points and adding value to Sino-Arab economic cooperation.
"Arab states are anticipating collaboration with China in these fields because it not only helps improve people's livelihood but also contributes to their industrial and scientific development," Li added.
The Arab world in turn holds high expectations for the opportunities presented by increased relations with China. When interviewed by Chinese reporters in Beijing during the recent CASCF Ministerial Conference, Ibrahim Seif, Jordan's Minister of Planning and International Cooperation, said President Xi's proposals have paved the way for a greater partnership between China and the Arab world, adding that it enhances cooperation in economic, commercial and cultural fields. "We in Jordan are very interested in developing our relations with China and we are working on implementing agreements reached between the leaders of China and Jordan to expand cooperation," Seif said.
In an interview with China's Xinhua News Agency, Ibrahim al-Ameri, a professor of politics at Baghdad University, said Xi's proposal would boost economic, social and cultural ties between China and the Arab world. "The Chinese president's call to promote cooperation is a great opportunity for Arab countries, including Iraq, to build their own prosperity and live in peace and harmony with other nations," he said.
Eastern opportunities
Not long ago, Tamer El Zayat, a renowned senior economist at Saudi Arabia's National Commercial Bank, suggested in an Arab News opinion piece that Arab states should strengthen their commitment to looking to the East.
Zayat said in his article that China is the answer to a host of questions—"Which is the fastest growing economy in the world during the last decade? Which economy is the largest consumer of most resources? And where will the huge capacity in Saudi petrochemicals be sold?"