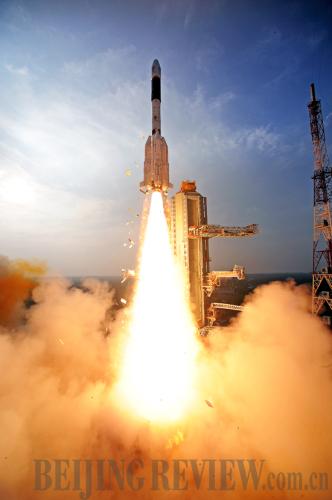 ROCKETING UP: India successfully launches a communication satellite with a GSLV-MK2 rocket on January 5 at the Satish Dhawan Space Center in Sriharikota, Andhra Pradesh (ISRO)
India has become the sixth space player in the world to have mastered the cryogenic propulsion technology after the United States, Russia, Europe, Japan and China. On January 5, at the Indian Space Research Organization (ISRO)'s Satish Dhawan Space Center in the eastern coastal city of Sriharikota, a satellite launch vehicle dubbed GSLV (geosynchronous satellite launch vehicle)-MK2 rocketed into the sky. Seventeen minutes later, the rocket successfully placed a satellite into its orbit.
This was the second launch of the GSLV-MK2 rocket. The model's first launch failed in April 2010 due to the breakdown of its cryogenic upper stage that India independently developed. Both the rocket and its attached satellite were destroyed as the rocket exploded and fell into the Indian Ocean.
The GSAT-14, the satellite that the rocket sent to the space, is the 23rd geosynchronous communication satellite that the ISRO has developed. This satellite, weighing 1.98 tons, is expected to strengthen the country's communication capabilities and provide a platform for new testing.
The rocket is a three-stage, 49.13-meter-long launcher. This type of rocket can be equipped with either a 7.8-meter-long aluminum alloy payload fairing 3.4 meters in diameter or an 8.7-meter-long carbon fiber reinforced composite fairing 4 meters in diameter. In the previous failed launch, it adopted a large fairing capable of launching a 2.22-ton payload. This time, a smaller aluminum alloy fairing was used to avoid risks.
Rocket science
India's launch vehicles on active duty include the GSLV and the polar satellite launch vehicle (PSLV). The PSLV is four-stage launcher with a carrying capacity of 1.3 tons. It has the ability to carry more than one satellite per launch and has successfully launched lunar and Mars probes. By the end of 2013, the PSLV had been launched 25 times, hitting a success rate of 92 percent with its 23 completed missions.