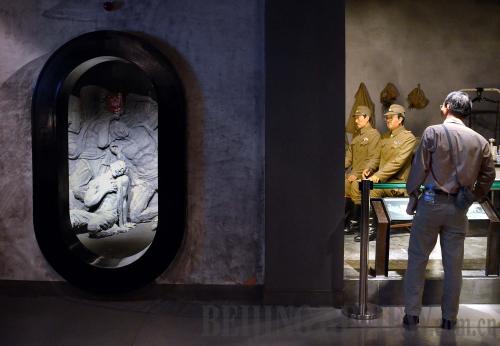 BITTER MEMORY: A visitor attends an exhibition on atrocities committed during Japan's invasion of China by Unit 731, a secretive biological and chemical warfare detachment, in Changchun, northeast China's Jilin Province, on September 14, 2011 (WANG SONG)
Ignoring strong opposition from China, South Korea and even many Japanese people, Japanese Prime Minister Shinzo Abe paid a visit to the war-linked Yasukuni Shrine at the end of 2013 on his first anniversary in office. The move aroused protest from both the Chinese Government and people, further complicating the Sino-Japanese relationship, which has already deteriorated over the Diaoyu Islands issue.
Why did Abe's visit cause such a big uproar and why can the people of China not tolerate incumbent Japanese prime ministers' visits to the shrine? We may find the answer by reviewing Japan's history and the shrine's status in Japanese culture and society.
Unacceptable visits
First of all, Yasukuni Shrine visits made by Japanese politicians conjure up sad memories for countries that suffered from Japanese aggression, like rubbing salt into their wounds. Though almost 70 years have passed since World War II, the painful experience still remains in the memory of those who were invaded. Even now, the chemical weapons left in China by the Imperial Japanese Army cause occasional accidents.
Moreover, unlike the Germans, some Japanese politicians have failed to face up to the history of Japan's war crimes. Despite the official peace treaty signed between the two countries, true national reconciliation has not yet been reached. Under the circumstances, Japanese politicians' shrine visits provoke the emotions of Chinese people.
Those who engaged in plotting, waging and implementing wars of aggression should be condemned universally. Some of those who are still worshipped at the Yasukuni Shrine are therefore the enemies of all mankind and must not be forgiven for their actions. The Class A war criminals honored there were responsible for massacring Chinese civilians, waging chemical warfare, and performing vivisection on war prisoners and civilians while they were still alive. It is undeniable that Japan invaded and ravaged China for 14 years during World War II. The war crimes of Japan's militaristic government have been inscribed in history by the verdict of the International Military Tribunal for the Far East.
It is true that China and Japan should move on after the war, but Japan has repeatedly sought to whitewash its terrible acts. In doing so, it has continually reminded China, together with South Korea, North Korea and the other countries it invaded, about their painful experiences. As a result, it has raised alarms over what Japan is planning to do now.
While the Japanese Government claims it has apologized to China 23 times, a single official visit to the Yasukuni Shrine by its prime minister tarnishes them all, suggesting that the apologies and reflections of Japan are merely diplomatic gestures.
From a global perspective, Japanese politicians' shrine visits do not conform to international justice or universal values. In terms of international relations, Japan should not overemphasize its national cultural traditions, but instead seek to handle relations with countries that were victims of their attacks based on international moral principles. The Yasukuni Shrine has nothing in common with China's Monument to the People's Heroes or Russia's Tomb of the Unknown Soldier, as the latter two honor those who died in just wars.
The shrine is also different from the United States' Arlington National Cemetery for several reasons. First, Arlington is not a religious venue. Second, Arlington is not a hotbed for militarism, because no American soldiers believed being buried there would bring comfort to their soul. The Yasukuni Shrine, however, is the spiritual ballast of Japanese soldiers who took part in the war of aggression. Their "courage" showed in the war was derived from dreams to be buried in the shrine. Third, there is no archive in Arlington justifying America's role in slavery, the Korean War and the Viet Nam War, unlike the Yasukuni Shrine's Yushukan Museum, which glorifies Japan's aggressive past. These factors make Japanese politicians' request for the world to take the Yasukuni Shrine as a simple tomb of unknown soldiers completely unacceptable.
Untenable excuses
Japanese politicians have attempted to justify their visits to the shrine by citing "ancient customs," "freedom of belief" and "the people's will." However, these justifications are inadequate. In the mid-1980s, Nakamura Hajime and Takeshi Umehara, two famous scholars on Japanese religion and culture, made their objections to the visits clear, pointing out that they are against traditional Japanese Shinto principles and customs of worship. In 2004, Takeshi Umehara published an article in Japan's monthly magazine Sekai to explain why these visits are not justified in terms of religion and folklore.
In addition, the emperor of Japan stopped visiting the shrine after Class A war criminals were enshrined there in 1979, further showing that Japanese prime ministers' visits are unjustified. Evidently, Japanese politicians' arguments of "following ancient customs" for their shrine visits are untenable. Rather than respecting traditional culture, the shrine visits aim to cultivate popularity through political grandstanding and show the superiority of the Japanese nation.
Abe's shrine visit was bad for Japan's relations both with its East Asian neighbors and even with the United States, as well as its image internationally. Washington publicly expressed disappointment regarding Abe's visit, which may cause Japan's rightists to acknowledge their miscalculations.
Perhaps Abe thought his deed would win the support of some of the Japanese people—especially the right-wing forces that might honor Abe a leader "having guts"—but he forgot that the majority of them don't want to see their country's image damaged. Opposition on the international stage is changing public opinion in Japan. Given rising protests from China, South Korea, Russia and Viet Nam and criticism from the United States, European countries and the UN, the number of Japanese condemning and criticizing the visit has increased.
Disputes over history and the Diaoyu Islands are the two major issues hindering the China-Japan relationship. The two issues by themselves are capable of causing a setback in bilateral relations, but for them both to flare up simultaneously invites the threat of a crisis. If Prime Minister Abe hopes for the best for Japan and wishes for its relations with China to improve, he should be more prudent concerning future visits to the Yasukuni Shrine.
The author is deputy director of the Institute of Japanese Studies at the Chinese Academy of Social Sciences
Email us at: yanwei@bjreview.com