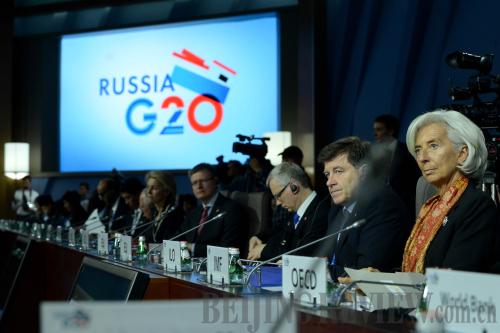 G20 FOCUS: Finance ministers and central bankers from G20 countries meet to discuss ways of preventing tax evasion and a new global slowdown during the G20 Finance Ministers and Central Bank Governors' meeting in Moscow on July 19 (XINHUA/AFP)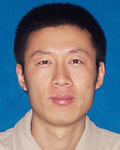 The G20 Summit will be held from September 5-6 in St. Petersburg, Russia. The G20, which became the top international economic governance platform in 2009, has made significant progress in fostering global economic recovery, financial supervision and reform. The current economic situation features complicated changes in developed countries and emerging markets' growth and recovery. These changes demand that G20 members make greater efforts, especially in policy coordination.
Top agendas
Russia, the chair state of this summit, has chosen a theme of growth and employment. Topics will include the creation of a robust, sustainable and balanced growth framework, employment, international financial institute reform, strengthened financial supervision, sustainable energy, common development, multilateral trade and anti-corruption.
How to push forward the world's economic growth remains the most important subject of this year's G20 Summit, as the global economy continues to stumble along the path to recovery. The International Monetary Fund (IMF) lowered this year's global economic growth expectation to 3.1 percent in July from a previous estimate of 3.3 percent. As developed countries accelerate their pace of adjustment, some encouraging hints of economic improvement have emerged.
A mild economic recovery trend has prevailed in the United States. Its real estate market is on the rise and the stock market index has met new highs, while the processing industry and service business continuously expand. In addition, the trade deficit and employment situation have seen improvement.
In Japan, the country's current quantitative easing policy, part of Abenomics, has successfully stimulated the Japanese economy and realized economic growth for three consecutive quarters. The Nikkei stock index increase has topped major global stock markets. The Japanese yen's exchange rate collapse has led to large-scale export growth, while relaxing previous deflation.
Europe's debt crisis has returned to a stable state, as its industrial output and market confidence have finally begun to rise. The European economy registered slight growth in the second quarter of 2013, ending the continent's economic shrinking since 2011.
However, the economic situation of emerging markets has clearly deteriorated. Emerging economies now face many structural contradictions that are hard to solve, such as a high inflation rate, increasing unemployment, inclining balance of international payment, and growing social problems. BRICS members found their economic growth rate in the first quarter of 2013 had dropped to the lowest level since 2009. India has a massive current-account deficit; Brazil is struggling with inflation; and Russia's energy export has declined. Meanwhile, the stock markets of India, Brazil and South Africa have taken a dive as their currencies sharply depreciated. But China's economic growth rate has remained at a high level. Its economic structural adjustment has accelerated, domestic demand expanded, employment situation remained positive, while the exchange rate of yuan slightly went up, remaining stable. China is still a major engine of the world economy.
The United States has moved away from quantitative easing, which will be another key topic of the coming summit. The quantitative easing of the United States over the past five years had contributed to economic recovery. The questions of when and how to abandon that policy are dependent on the U.S. Government. Economists generally believe that the U.S. Federal Reserve will start to decrease its Treasury bond purchasing in September, and completely cease buying in the mid-2014. As a consequence, global liquidity will tighten, creating big influences on global economic growth and financial markets. Different countries adopted varying economic policies to fit their economic recovery paces. Therefore, it will be very difficult to coordinate a common economic policy in the coming G20.