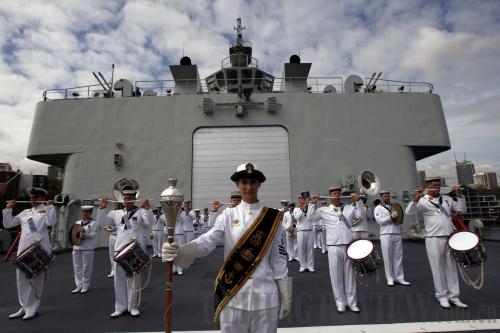 MILITARY CONCERT: Members of the Royal Australian Navy Band perform during a welcoming ceremony for three visiting Chinese naval ships in Sydney on December 18, 2012 (JIN LINPENG)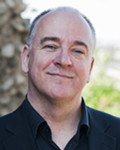 Between 2009, under the government led by Prime Minister Kevin Rudd in Australia, and 2013 when Julia Gillard was leader, Australia has produced two white papers on defense. The difference, at least in terms of their tone, is striking and has attracted much media commentary in Australia and abroad.
These two important papers need to be put in context. Australia is geographically a huge country. Looking on a map, it dominates the Southern Hemisphere in the Asian region, and straddles three time zones from west to east. But this physical vastness belies the fact that it is a country with a population smaller than that of Shanghai, which covers an area of 640 square km. Some 23 million people live in Australia, more than 90 percent in a few major urban centers. So it is quite common to hear people living in the country say that they are "a small country." In terms of population, this is true.
The defense of this major landmass is therefore a huge challenge. Australia needs to make the most of the resources it possesses. Historically, its greatest protector has been distance. During World War II, only the very northernmost parts of the country were touched by the conflict. But now, distance is not so important. Australia is defending its vast area with a military of only 60,000 personnel. The strategic formation of a credible defense force out of such a relatively small army, navy and air force is a priority.
Asian identity
As the 2013 white paper makes clear, the impact of the 2008 financial crisis, which is still ongoing, is clearer now than it was when the first paper was produced in 2009. The economies of its main allies in Europe and the United States have been weakened, and much of the productive energy and GDP growth centers have moved to emerging markets, the most important of which are in the Asian region. China and India figure heavily in both papers, particularly because of their immense economic importance to Australia now. This creates a level of complexity that was never as strong before.
The background to the 2013 defense white paper is a separate white paper issued by the government late in 2012, which dealt with the issue of Australia in the "Asian Century." Historically, Australia has been a European colony, and then a federation with independence but strong links to European countries, particularly the United Kingdom and Ireland. Its dominant trade partners until recently were in Europe, before being overtaken by the United States. In the last few years, however, the largest trade partner has become China. This has had a significant impact on how Australians view their identity and their role in the world.
Under prime ministers Robert Hawke in the 1980s, and then Paul Keating in the 1990s, the issue of Australia being an Asian country—despite its deep links culturally, politically and socially to Europe and the United States—became a major question. People addressed the issue by thinking about how to diversify Australia's links. New patterns of migration started to occur. Australia became a more complex society, and its strategic position became more complicated. Politicians had stated in the past that it was an Asian country and part of the Asian region, but in many ways their thinking was still rooted in European and American ways. The white paper issued last year was an attempt to think much more deeply about the reality of Australia's place in a world where Asian economies were increasingly dominant, and where it was critical for the future healthy growth of the country to have deep links with the region.
Australia has enjoyed continuous economic growth for over 21 years. This is unique amongst developed economies. It has a high per-capita GDP, and is a country which has grown prosperous particularly due to its rich resources. Many citizens describe it as a classic middle-class society. The vast majority of people are doing well, even though the cost of living is high because of the resource-led boom. Even so, there is anxiety about the sustainability of a resource-dependent economic model. Some of the thinking in the Australia in the Asian Century paper was about preparing for a day when service provision rather than resources was the key thing for Australia to supply in the region. The question here is how to get access to the markets emerging in China and India in particular, to be able to sell goods and do better business with the many hundreds of millions of consumers now becoming active.
Diverse alliances
The tone of the 2009 defense paper attracted notice at the time. It spelled out a framework in which the main objectives were to create a secure country, a country which could support a stable neighborhood, and which was also contributing to global security. The strongest link in Australia's security architecture was the alliance with the United States. While the 2009 paper stated that maintaining a strong and practical relationship with China as it assumed a greater role on the global stage was important, there was also forceful language about needing to have China spell out more clearly its strategic vision and declare more about its goals in the region and further afield as it became a bigger player.
The less categorical tone of the 2013 paper is partly because, as it itself admits, the global context has grown more complex, and this has inevitably had an impact on Australia. "China's continuing rise as a global power, the increasing economic and strategic weight of East Asia and the emergence of India" are given explicit prominence in the paper. The commitment to the United States as the key ally remains clear and strong. But the tone is far more pragmatic. "For Australia," the paper states, "this more complex relationship will make it more challenging for us to achieve or influence outcomes. Asian countries will balance a broader range of interests and partners, and Australia's voice will need to be clearer and stronger to be heard."
Part of that "clearer and stronger" voice is to resist the issue of needing to go for exclusive relationships. The key issue here is a statement that China is not viewed as an adversary, in ways in which the earlier paper had hinted. Instead, its economic prosperity and success are critical for the health of the region, and to Australia. In view of this, therefore, there is the need for a much more nuanced and sophisticated positioning—one in which Australia is able to balance often diverse and sometimes very different alliances. Good relations with India are needed to preserve the stability of key trade routes. Links with Indonesia and across Southeast Asia are important particularly for cooperation on counterterrorism. Strong economic ties with Japan and South Korea remain key.
Diversification is not so strange. The 2009 paper inhabited a world which seemed too black and white, spelling out clear choices and coming across as more adversarial. In 2013, things are less clear. The Australia in the Asian Century paper had declared that there was a need in the new era for an Asian savvy and knowledgeable policy making generation—people in government who were at ease with thinking about themselves as part of the Asian region, and understanding the different countries, their internal dynamics and their strategic visions better.
The difference between the defense papers of 2009 and 2013 therefore shouldn't too readily be seen as signs of internal discord and incoherence, but rather of development and evolution. As the economist John Maynard Keynes famously noted, when the facts change, then so should your ideas and opinions. And that, as a country, is what Australia has been doing for the last four years. These papers are simply a testament to that.
The author is an op-ed contributor to Beijing Review and executive director of the China Studies Center at the University of Sydney
Email us at: yanwei@bjreview.com