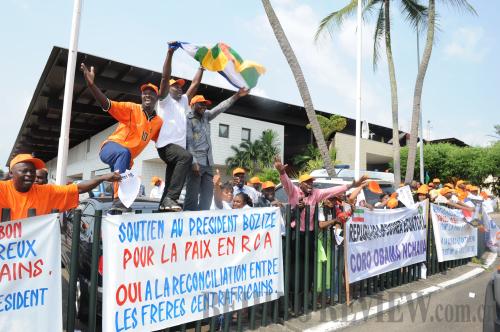 CRYING FOR PEACE: Supporters of the Central African Republic's President Francois Bozize rally on January 10 in Libreville, Gabon, as Bozize arrived to conduct peace talks with rebels (XINHUA/AFP)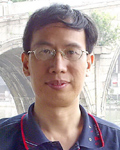 A year ago, late Ethiopian Prime Minister Meles Zenawi declared at the 18th African Union (AU) Summit, "The African renaissance that we all dreamed of is beginning to happen." The rest of the world has since awakened to the developing "African renaissance," with The New York Times noting last year that the African continent is rising.
Despite its growing potential, challenges abounded in 2012. Coups toppled governments in Mali and Guinea-Bissau. Terrorist attacks burst out one after another in Nigeria. The Central African Republic saw the outbreak of a civil war. The situation in the east of the Democratic Republic of Congo (DRC) deteriorated. France dispatched troops and helicopters to northern Mali at the Malian interim government's request and with the support of the UN Security Council to strike anti-government militants there in January 2013. The state of affairs in Africa, and particularly sub-Saharan Africa, deserves close analysis.
Tapering turbulence
When a coup broke out on March 22, 2012, the security situation in northern Mali collapsed. Captain Amadou Sanogo overthrew elected President Amadou Toumani Toure and established the National Committee for Recovering Democracy and Restoring the State. Internal and external pressures forced Sanogo to hand over power on April 12, when parliament speaker Dioncounda Traore took over as transitional president. The National Movement for the Liberation of Azawad, a political and military organization based in Azawad, northern Mali, seized the opportunity and occupied three important cities in the north—Kidal, Gao and Timbuktu—in late March and early April. Mali has since sunk into division.
The deterioration of security in north Mali happened partially due to ethnic issues involving the Tuareg. There had always been conflicts between Tuaregs and the Bamako government, as the Tuaregs continually sought autonomy and even independence. The war in Libya shattered the delicate balance held between the two sides. Mohamed Ag Najem, one of the top leaders of the National Movement for the Liberation of Azawad, was a former colonel in the army of former Libyan leader Muammar Gaddafi. He returned to north Mali with vehicles loaded with soldiers and weapons in July 2011. In the meantime, the Al Qaeda-connected Movement for Unity and Jihad in West Africa took advantage of the turmoil to expand its forces in the area.
The extremist religious organization Boko Haram is the main source of terrorist attacks in Nigeria. It was responsible for three explosions in churches in north Nigeria's Kaduna State in June 2012, killing 50. The organization slaughtered inhabitants of 12 villages in July in Plateau State, killing more than 100 Christians. Boko Haram militants attacked many mobile communication base stations in north Nigeria, causing mass communication blackouts in the area.