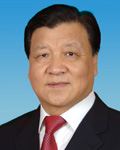 Liu Yunshan, Minister of the Publicity Department of the Central Committee of the Communist Party of China, recently visited Ethiopia, Tanzania and Zimbabwe. As he traveled from north to south on the African continent, he was able to take a close look at African culture. The trip convinced him that Africa is not a "cultural desert" as some have claimed, but an oasis steeped in culture. His edited opinion follows:
Prejudice results from ignorance. If I had not set foot in Ethiopia, I would never have imagined the country has a long history and a splendid civilization. That's because today's highly developed mass media have made Ethiopia synonymous with hunger, poverty, war and disaster. TV images and news photos invariably portray Ethiopia as a country of malnourished people with a vast expanse of waste land.
Origin of mankind
Museums provide the easiest access to a country's culture and history. A two-story building with cement walls and a fenced courtyard in front, the National Museum of Ethiopia is incredibly shabby. You could mistake it for a hotel by the road. The inconspicuous museum, however, houses a huge number of relics that beguile the world. Someone joked that earnings from auctioning a single exhibit from here would be enough to build a magnificent museum.
The most precious item in the museum's collection is the fossilized remains of an early hominid named Lucy discovered by U.S. paleoanthropologists in Ethiopia's Afar Region in 1974. Representing 40 percent of the skeleton of a woman who lived 3.2 million years ago, it is the earliest human fossil unearthed to date. Lucy shows that despite its barren land, Ethiopia is the origin of mankind, the cradle of human civilizations and the native place of human beings.
In the museum, there is an exclusive exhibition room for Lucy. Also on display in the room are human fossils dating back to more than 2 million, 1 million, 400,000 and 200,000 years ago. Visitors with a sense of history are bound to take a break in this small exhibition room, lost in thought and filled with reverence. In my opinion, this room, only several dozen square meters in size, serves as a shrine for all humanity that documents our long history and an ancestral temple of a big human family, which has 7 billion members today.
While in Ethiopia, we were impressed with the Ethiopians' heartfelt pride. Every member of modern society, no matter which part of the world he or she is from and no matter which ethnic group he or she belongs to, should pay tribute to the birthplace of mankind and those who have lived there to this day.
Worshipping ancestors is a deep-rooted Chinese tradition, which I believe is a virtue of our nation. The continuity of the Chinese civilization over the past several thousand years is partly attributed to the special importance the Chinese attach to remembering the past.
Moreover, I think as a nation with splendid culture, the Chinese can be more farsighted and have a broader vision when exploring their roots. Apart from paying homage under the giant pagoda tree in Hongdong County, Shanxi Province, at the memorials of legendary emperors Yandi and Huangdi and in the Zhoukoudian caves on the outskirts of Beijing, they should go to Africa and Ethiopia, which are home to the ancestors of our ancestors and where all human beings find their origins. People in modern society are supposed to recognize their shared cultural identify. As we move forward, reflections on the past can make us wiser, more at ease with ourselves, more confident and more determined to go further.
Cultural confidence
The Ethiopians take great delight in their 3,000-year-long civilization. When discussing culture with them, I often saw their eyes sparkle with pride—an expression that I will not forget. The Ethiopians' confidence about their culture stems from their long history as well as their ancestors' remarkable cultural achievements and contributions to the human civilization.
The civilization of Aksum, capital of the ancient Empire of Ethiopia, peaked in the first century B.C. Its flourishing economy, trade, architecture and art attracted numerous bureaucrats and merchants from the Mediterranean and the Arabian Peninsula. Aksum bears some resemblance to Xi'an, an ancient capital city of China. But unlike Xi'an, which remains a thriving metropolis, Aksum's prosperity has long been consigned to history. Rubble and withered grass seen everywhere in the city can hardly remind visitors of its glorious past. Towering obelisks in the bleak ruins of ancient Aksum are the only signs of its historical civilization.