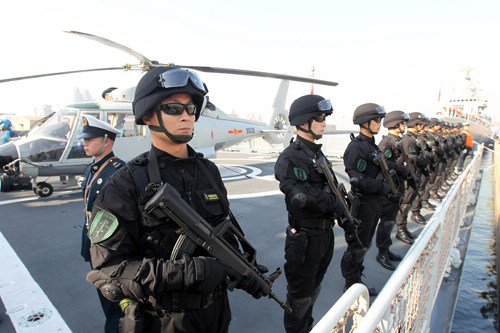 NAVAL ESCORT: A Chinese destroyer leaves Qingdao, east China's Shandong Province, on February 27, 2012 for an anti-piracy escort mission in the Gulf of Aden and Somali waters (XINHUA)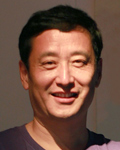 China now is experiencing growing pains as its economic strength and international influence are on the rise. In the meantime, the international situation has changed, and the international community has higher expectations of China, hoping the country can shoulder bigger responsibilities in the world.
Based on changing internal and external factors, Professor Wang Yizhou, Vice Dean of the School of International Studies of Peking University, has initiated a new diplomatic concept—"creative involvement," calling on China to actively play a bigger role and voluntarily get involved in international affairs. In a recent interview with Beijing Review reporter Ding Ying, Wang explained why this concept is relevant and what it means for China and the world. Edited excerpts follow:
Wang Yizhou: Chinese diplomacy has undergone two phases since the founding the People's Republic of China in 1949: Mao Zedong's era and Deng Xiaoping's era.
The Mao era stressed political independence, aiming to make China a "red giant" on the international political stage. So the diplomatic theme of this period was "revolutionary diplomacy." In spite of some moderate diplomatic ideas such as Premier Zhou Enlai's Five Principles of Peaceful Coexistence (mutual respect for sovereignty and territorial integrity, mutual non-aggression, non-interference in each other's internal affairs, equality and mutual benefit, and peaceful coexistence), the major goal of China's diplomacy was to advance revolutions, in Asia, in Africa and even throughout the world.
In line with the reform and opening-up policy adopted in 1978, the diplomatic goal of the Deng era has been guaranteeing domestic reform and economic development. Therefore, "commercial diplomacy" has been the dominant theme of China's diplomacy.
Now China's diplomacy is entering a new phase, during which opportunities and uncertainties coexist. China has become a participator and even one of the leaders of world affairs. Now Deng's principles still guide the country's policy-making process. China remains a free rider of the international system instead of a creator. But it cannot continue to follow this model in the new era.
China's overseas interests are getting bigger along with its growing strength. The country needs to provide its own originality. In the meantime, the international community has new demands of China. Previously, China was considered an isolated giant on the world stage. Now it is climbing up to the top of the world from a regionally influential nation. China should be neither a rebel nor a free rider of the existing world system. It must come up with new ideas and make new contributions to the world.
Deng said China should keep a low profile when dealing with international affairs, which reflects the country's consistently advocated diplomatic policies of independence, mutual benefit, peace and cooperation since 1978. These policies won't and shouldn't be changed. Essentially, the idea of "creative involvement" is a development and enrichment of Deng's policies. And it is the inevitable demand of China's diplomacy when the country is at a higher position with a broader vision.
"Creative involvement" stresses a new and active attitude—that is, China should have a stronger sense of participation and be more skillful when dealing with international affairs. It requires all foreign affairs-related government departments and Chinese people to more proactively and voluntarily participate in the discussion and resolution of regional and international issues, while sticking to the basic policy of reform and opening up.
China should carefully reconsider its diplomatic policy so as to adapt to changes at home and abroad. It needs to provide more original institutions, assistance and global public goods that can benefit people throughout the world, including a good environment, public health and peace, imprinting the future world with its contributions.