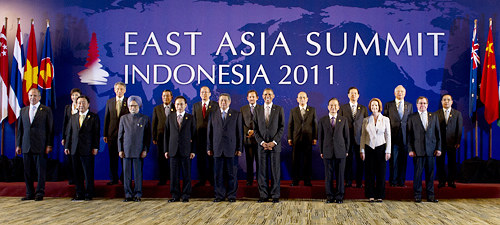 REGIONAL REUNION: Leaders at the Sixth East Asia Summit in Bali, Indonesia on November 19 (LI XUEREN)
East Asian cooperation in diverse fields including financial security and food security was greatly strengthened at a recent series of summits in Bali, Indonesia, said Chinese analysts. And deepening regional integration has lured the United States, which is struggling to reinvigorate its ailing economy by expanding exports, to join the process.
The series, held from November 17 to 19, included the China-ASEAN Summit, the ASEAN Plus Three (China, Japan and South Korea) Summit and the Sixth East Asia Summit.
It was the first time the United States and Russia were formally represented at the East Asia Summit, which formerly consisted of the 10 ASEAN member states, China, Japan, South Korea, Australia, India and New Zealand.
Against the backdrop of a sluggish global economic recovery and an unstable global financial market, it was agreed during the summits that East Asian and Southeast Asian countries should work together to enhance their global competitiveness and improve their ability to resist risks.
Food security was a hot topic at the ASEAN Plus Three Summit on November 18. Cooperation on food security is significant, because it is in the interests of all parties concerned, said Lu Jianren, an expert on Asia-Pacific studies with the Chinese Academy of Social Sciences.
"Food security is a common concern for East Asia," Lu said. "As a big agricultural country with frequent natural disasters, China attaches great importance to food security. ASEAN is worried that food shortages will endanger its future development."
Natural disasters caused by climate change, as well as an increase in population, have led to a drop in grain output in ASEAN. For instance, Thailand, the world's biggest rice exporter, has been suffering from a tremendous flood since July.
Not long before the summit, ASEAN signed an emergency rice reserve agreement with China, Japan and South Korea under the ASEAN Plus Three mechanism in October, marking a big step forward in the building of a food security cooperation mechanism. It was expected to help East Asian countries deal with natural disasters, balance food supply and demand, and strengthen food information sharing.
At the ASEAN Plus Three Summit, leaders pledged to jointly implement this agreement and further raise the food security level of East Asia.
Participating countries agreed to establish two "banks"—a "blood bank" and a "grain bank." The "grain bank" refers to an emergency rice reserve set aside in case of disasters, while the "blood bank" refers to a foreign exchange reserves pool aimed at ensuring the financial stability in Asia. They pledged to make these banks effective means of resisting risks from global economic downturn, handling natural disasters and striking supply-demand balance.
In fact, the building of the "blood bank" started as early as 2000. So far, the regional foreign exchange reserves pool has surpassed $120 billion. At the ASEAN Plus Three Summit, leaders agreed to improve the management of the funds so they can play a greater role in helping fend off financial risks.
China proposed ASEAN Plus Three countries should improve financial cooperation and enhance the effectiveness of the regional foreign exchange reserves pool, established under the Chiang Mai Initiative Multilateralization (CMIM) Agreement.
Launched on March 24, 2010, the CMIM is a multilateral currency swap arrangement among ASEAN members, China, Japan and South Korea. It aims to manage regional short-term liquidity problems and regional balance of payment problems.
At the ASEAN Plus Three Summit, ASEAN also had discussions with China, Japan and South Korea on economic and trade cooperation, as well as cooperation in building connectivity, preventing disasters and combating terrorism.