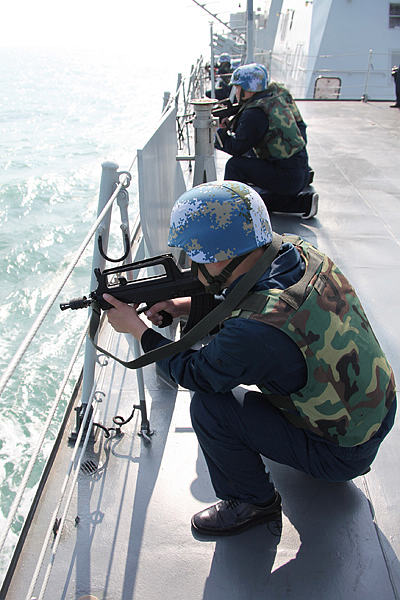 ANTI-PIRACY DRILL: Soldiers of China's eighth naval escort fleet take part in an anti-piracy exercise in the South China Sea on their way to the Gulf of Aden (QIU JUNSONG)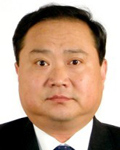 African think tanks expressed a high opinion of China's role in helping build African peace and security at the first meeting of the China-Africa Think Tanks Forum. The meeting was held in October in Hangzhou and Jinhua in east China's Zhejiang Province as an unofficial dialogue between Chinese and African scholars.
Africa has a vast area, a big market and rich resources. Its strategic position cannot be overstated. But long-term colonization and domestic unrest have hindered progress in the economic development of most African countries.
In recent years, Africa has seen a decrease in regional wars and armed conflicts, along with improved security. But ethnic conflicts, racial barriers and border disputes still remain and cannot be solved in the short term. Since the beginning of this year, a number of North African countries, including Egypt, Tunisia and Libya, have experienced drastic political and social turmoil.
Peace and security are the prerequisites for economic and social development. It is hard to imagine how a region mired in war or unrest can carry on its economic and social development.
In addition to Africa's own efforts, external support is crucial to achieving lasting peace in the region. Given the significant position of Africa in the world political arena, many political forces have participated in its peace and security building. These forces include sovereign states, international organizations such as the UN, regional organizations such as the African Union (AU), UN specialized agencies such as the UN Food and Agriculture Organization, the International Committee of the Red Cross and international NGOs such as Oxfam International and Save the Children. Among them, China has played a remarkable role.
In recent years, China has participated in peacekeeping, anti-piracy operations, the prevention of arms proliferation and post-war reconstruction in Africa to support the region's peace and security efforts.
To date, it has participated in 15 UN peacekeeping missions in Africa. Currently, more than 1,000 Chinese peacekeepers are working in eight UN peacekeeping missions across the continent. Moreover, a number of Chinese professionals are on civilian missions there.
Of the five permanent members of the UN Security Council, China has sent the largest number of peacekeepers to UN peacekeeping operations. Well-trained, disciplined and diligent, Chinese peacekeepers have won the approval of the international community, especially host countries.
By participating in peacekeeping operations in Africa, China's image as a peace-loving and responsible power has been further enhanced, and the traditional friendship between Chinese and African people has been consolidated.
China has supported the peacekeeping operations carried out by Africa's regional and sub-regional organizations in accordance with the UN Charter and their own basic documents. In August 2009, China offered 5 million yuan ($788,500) in logistics assistance to Uganda and Burundi, two major troop contributors to the AU peacekeeping mission in Somalia. Also, China offered a $400,000 check to the mission. China's financial and material assistance has promoted peace processes in Africa and improved Africa's own peacekeeping capacity.