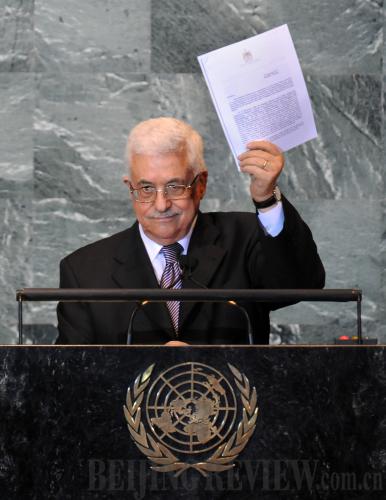 PUSHING FOR RECOGNITION: Palestinian President Mahmoud Abbas displays a copy of the Palestinian application for UN membership while delivering a speech at the UN General Assembly on September 23 (SHEN HONG)
Palestinian President Mahmoud Abbas showed the world Palestinians' desire to be an independent state. In spite of pressure from Israel and the United States, Abbas has submitted the nation's bid for UN membership.
This brave behavior risks huge economic losses of U.S. assistance and Palestinian financial revenue transferred by Israel. But Abbas' bid could make it possible for Palestine to be recognized as a UN observer state. The statehood vote may also shake up a stagnated peace process.
The Israeli-Palestinian peace talks have been at a standstill since last September. Although Washington tried to be a good broker between them, the situation didn't improve. Frustrated with the standstill and with growing Israeli settlements in the occupied territories, Abbas decided to seek statehood recognition from the UN. He submitted the Palestinian request of being the UN's 194th member to the UN General Assembly on September 23.
The timing of Abbas' move could be critical. Analysts pointed out that as Lebanon currently holds the UN Security Council chair and Qatar is the chair state of the UN General Assembly, now is a precious chance for Palestinians. Recently, Abbas paid a visit to Lebanon to get the country's support on its UN membership bid.
Zhu Weilie, a researcher with the Middle East Studies Institute of the Shanghai International Studies University, said Israel's decreasing influence was a key reason for Abbas' decision. Zhu said from the time Ariel Sharon became Israeli Prime Minister in 2001 until Benjamin Netanyahu came into power in 2009, the Israeli Government didn't make any practical move to push negotiations forward. This greatly damaged Israel's reputation in the Arab world.
Plus, Israel's relationships with Turkey and Egypt, two major powers in the Middle East, have deteriorated. These two used to be Israel's allies. In May 2010, Israeli commandos raided a Turkish flotilla that was heading to the Gaza Strip loaded with humanitarian assistance, killing several Turkish citizens on board. After Israel refused to apologize, Turkey expelled the Israeli ambassador. On September 9 this year, Egyptians protesting against the killing of five Egyptian soldiers by Israeli forces in the border area in August attacked the Israeli Embassy in Cairo. The Israeli ambassador to Egypt was forced to return to Israel.
Zhu said the new Egyptian administration is determined to discard the previous pro-U.S. and pro-Israeli strategy and help protect Arab nations' interests to improve its legitimacy. After many years of fruitless efforts to join the EU, Turkey has shifted its focus to the Middle East, aiming to enhance its influence in the region. Moreover, it was enraged by the Israeli attack on the aid flotilla.
If the Israeli Government continues with the current tough tactics and refuses to resume its peace talks with Palestinians, it will face a more challenging diplomatic environment. "Without a major policy adjustment, it will be hard for the Netanyahu administration to break the current stalemate," Zhu said.
Li Guofu, Director of the Center of Middle East Studies at the China Institute of International Studies, said Washington's recent attitude on the Middle East was also an important reason for Abbas' final decision. He pointed out Netanyahu's behavior over the past years showed his limited interest in peace talks.
Washington has maintained significant influence in Israel. But as U.S. President Barack Obama is preoccupied by the presidential election next year, he is not prepared to pressure the Israelis hard enough on this issue. "Palestinians believed there are no other options. Only by making Palestine an official UN member can they realize their wish of establishing an independent state," said Li.