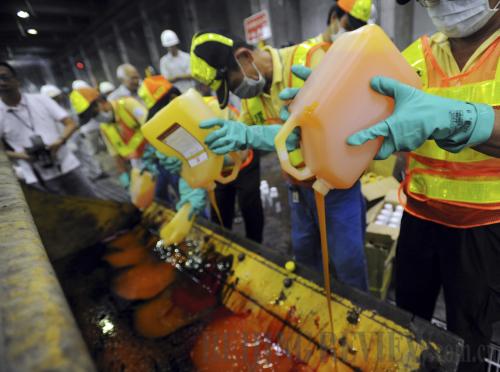 PLASTIC HAZARDS: Food inspectors dispose of DEHP-contaminated beverages at a waste treatment plant in Taipei on June 11 (XINHUA)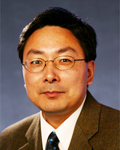 Chinese people like to say, "Eating comes first." That being said, they are also keenly aware that "illness finds its way in by the mouth." Food safety has long been a concern of humankind, but it has never occupied such a prominent place as it does on government leaders' agenda in China today.
Over recent months, a long series of food safety scandals have renewed fears sparked by the 2008 melamine-tainted milk powder scandal. They include clenbuterol-tainted pork and pork products, protein powder extracted from hydrolyzed leather waste, steamed buns dyed with chemicals, and watermelons contaminated with growth accelerators. Amid the widespread public outcry, the government has launched a nationwide campaign to crack down on the rampant use of additives in food.
Global outbreaks
China is not the only country to make headlines with unsafe products. In March, fears of radiation and nuclear contamination in Japan prompted the United States, China, and South Korea to ban imports of a range of Japanese food products. Two months later, the food safety incident in Japan was overshadowed by a high-profile scandal involving Taiwan-made beverages and foodstuffs containing DEHP, a banned industrial plasticizer that is believed to be 20 times more toxic than melamine.
Some other countries and regions, including the United States, the Philippines, Viet Nam, the Chinese mainland and Hong Kong are feeling the repercussions. Mainland health authorities quickly banned restaurants from selling or using beverages, food products and food additives from 10 Taiwan producers suspected of adding DEHP to their products.
DEHP is not the only agent disrupting the global food supply chain. A deadly E. coli outbreak originating in bean sprouts, first identified in Germany, recently swept across Europe, claiming the lives of at least 35 people and making more than 3,000 sick. The rare strain of E. coli, EHEC, has prompted countries to ban EU vegetable imports and remove the vegetables from store shelves, which ultimately could cost European farmers and traders of fresh fruits and vegetables 500 million euros ($720 million). The outbreak may turn out to be the worst crisis for Germany's agricultural sector since the Chernobyl nuclear disaster 25 years ago.
For years, China has committed tremendous resources in order to construct a functioning product safety regulatory framework. This involves establishing an authoritative and competent regulatory authority, building an effective and enforceable rule of law and reversing the hemorrhaging of business ethics in Chinese society.
Properly implemented, these measures should significantly strengthen domestic regulatory capacity over food safety. But they are no guarantee of food safety as countries are no longer self-reliant for food. The rapid globalization of the food supply chain over past decades has far outstripped the capacity of national regulatory agencies to verify and ensure food safety.
In 1998, China imported $6.7 billion worth of food. By 2009 that figure had increased by 234 percent and reached $22.4 billion. Similar dynamics were observed in other countries.
UN Food and Agriculture Organization (FAO) statistics show global food imports were valued at $1.1 trillion by the end of 2008, a 213-percent increase over 1990. While countries are increasingly dependent upon foreign producers for their food supply, many have also expanded their food exports. From 1998 to 2009, China's food exports increased nearly three-fold, from $12.2 billion to $33.8 billion.