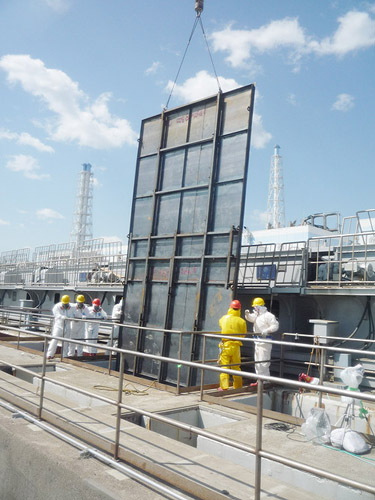 REDUCING DANGER: Engineers at work at the Fukushima Daiichi Nuclear Power Plant on April 12, the day Japan raised the severity level of the nuclear accident at the plant to seven, the worst on the international scale (XINHUA) 

Charles K. Ebinger 

John P. Banks 
The accident at the Fukushima Daiichi Nuclear Power Plant in Japan has had an immediate impact on resurgent interest in nuclear power worldwide.
Numerous governments have announced plans to re-examine nuclear energy policy and review the safety of their reactors and the adequacy of their regulatory frameworks.
On March 16, EU Energy Commissioner Gunther Oettinger called for safety and stress tests on all 143 reactors in member countries. In the United States, President Barack Obama called on the Nuclear Regulatory Commission to conduct "a comprehensive safety review…of all our existing nuclear energy facilities." Germany has temporarily closed seven old plants and suspended a previous decision on life extensions for all its 17 nuclear generators. China, with the world's largest nuclear reactor construction program, suspended approval of new plants while conducting safety reviews at existing plants.
In the wake of the accident, all aspects of nuclear power plant construction and operation are facing increased scrutiny, with particular attention focused on the ability of reactors to withstand catastrophic events and seismic activity; emergency preparedness and the adequacy of backup power systems; the siting of multiple units in one location; the re-licensing of older facilities; the handling and storage of spent fuel; and liability in the event of an accident. The examination of these issues and assessment of the events at Fukushima in detail will almost certainly result in new policy and regulatory revisions, which in turn will likely cause delays to global nuclear expansion plans in the short term.
Impact
DESTRUCTION: A destroyed reactor at the Fukushima Daiichi Nuclear Power Plant captured by a photograph taken by an unmanned aircraft on April 21 (XINHUA) 
The negative impact of the Fukushima disaster will be less pronounced in most of the industrialized world where the much-heralded nuclear "renaissance" was already facing financial, regulatory and logistical challenges. Prior to the events in Japan, high up-front capital costs had been the principal obstacle in deploying expanded nuclear capacity.
John Rowe, Chairman and CEO of Exelon Corp., the largest U.S. nuclear generator, said just days before Fukushima that nuclear energy would not be economical in the next decade largely because of cheap natural gas. In Western Europe, the only two nuclear plants under construction are both behind schedule and over budget. Fukushima has brought safety concerns to the forefront and will exacerbate the risk premium in the cost of nuclear power.
The situation is different in emerging markets for three reasons. First, these countries are confronted with more daunting long-term energy and development challenges. The International Energy Agency estimates that 80 percent of total global electricity consumption growth, and nearly all of the increase in global carbon dioxide emissions will occur in developing countries in the period between 2008 and 2035. Meeting rising electricity demand to support economic modernization, population growth, urbanization and a growing middle class, while lowering carbon dioxide emissions, leaves these countries with no alternative but to consider nuclear energy as a viable component of their broader economic development and energy security strategies.
Second, many developing countries are further along in their commitment to nuclear power development than those in the industrialized world. Most current reactor construction and planned expansion in the next decades are in emerging markets, especially in Asia. Seventy-five percent of reactors under construction are located in China, Russia, South Korea and India, with China alone accounting for 42 percent of global construction. Furthermore, some nuclear plans are very ambitious, with China targeting 90 gigawatts of nuclear capacity by 2020, up from 10.8 gigawatts today. South Korea intends to export 80 nuclear power plants over the next two decades, while Russia wants to increase reactor sales from $17 billion to $50 billion in the next 20 years. Other countries are looking to build their first nuclear reactors in the next several decades, including Egypt, Indonesia, Jordan, Kazakhstan, Saudi Arabia, Turkey, the United Arab Emirates and Viet Nam.