Since the founding of the People's Republic and, in particular, since reform and opening up, China has played an increasingly important constructive role in seeking the settlement of major international and regional hotspot issues, addressing global challenges and safeguarding world peace.
As a permanent member of the UN Security Council, China is committed to the purposes and principles of the UN Charter and the peaceful resolution of international disputes through dialogue and negotiations, and has carried out international cooperation in various fields. China supports reform of the UN and its Security Council, vigorously works for the attainment of the Millennium Development Goals and actively promotes reform of the international financial system.
Currently, it is working closely with other countries to address climate change, energy security, proliferation of weapons of mass destruction and other global challenges.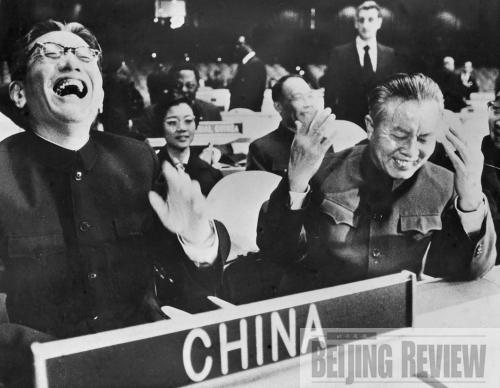 UN SEAT RESUMED: Chinese Vice Foreign Minister Qiao Guanhua (left) and Permanent Representative to the UN Huang Hua share a laugh at the 26th UN General Assembly in November 1971 when asked how they felt about participating in a UN meeting for the first time (XINHUA) 

With the broadening of China's external exchanges and cooperation, it has become an increasingly arduous task to protect the safety and lawful rights and interests of Chinese citizens and enterprises overseas. To this end, the Ministry of Foreign Affairs has established the Consular Protection Center to handle consular protection cases. In the past few years, China has, on average, handled over 30,000 consular cases of various scales each year.

Chinese diplomats, like China's diplo-macy, have weathered various vicissitudes over the last six decades and have be-come stronger, better educated and more professional.

The success of China's diplomacy in the last 60 years is attributed to two important things. First, it has adhered to an independent foreign policy of peace. China will, as always, decide its positions and policies on international affairs on the merits of each case, bearing in mind the fundamental interests of the Chinese people and people worldwide. China will continue to uphold justice in the world and work with others to make the world a better place to live.

Second, it has taken into consideration both the domestic and international situations, and focused on meeting the priorities of the Party and the government. There have been closer interactions between the situations at home and abroad and between domestic and foreign policies in the 21st century. China must therefore aim to serve the needs of building a moderately prosperous society in all aspects in conducting diplomacy while fostering a stronger sense of coordination and overall development so that its diplomatic work and work on other fronts will reinforce each other and achieve coordinated progress.

China will adhere to its path of peaceful development, pursue a win-win strategy of opening up and make unremitting efforts for the building of a harmonious world of enduring peace and common prosperity.