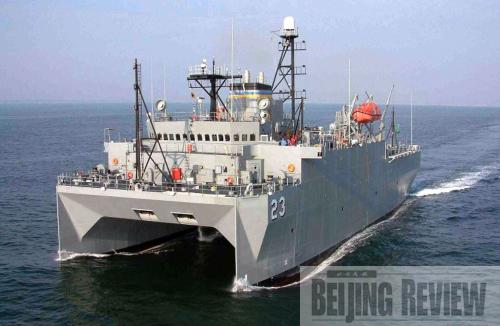 IMPECCABLE?: The file photo of the USNS Impeccable. The U.S. ship conducted activities in China's special economic zone in the South China Sea, violating international and Chinese law (XINHUA/AFP) 
U.S. Navy surveillance ships have paid frequent "visits" to Chinese waters in recent years to spy on key sea channels used by Chinese submarines. The U.S. military claims its navy has not entered China's territorial waters, but China's Exclusive Economic Zones (EEZs), where the United States has navigation rights.
But the Chinese Ministry of Foreign Affairs says that U.S. Navy ships "entered Chinese EEZs without China's permission, which is a violation of relevant international law as well as Chinese laws and regulations."
So which international law did U.S. Navy surveillance ships violate when they entered Chinese EEZs?
The USNS Impeccable is one of the 25 naval vessels that execute special missions assigned by the U.S. Navy's Military Sealift Command (MSC). MSC missions include surveying sea channels, underwater monitoring, missile tracking, sonar spying, commanding and supporting submarines and special operations.
The USNS Impeccable is equipped with the most advanced sonar system in the U.S. Armed Forces, the surveillance towed array sensor system (SURTASS). It contains passive sonar that is towed horizontally behind the ship by a 1,800-meter-long cable, through which it can identify the type of a submarine up to 450 meters beneath the surface. The other part is a submarine detection system called Low Frequency Active (LFA) sonar, an active sonar array that hangs vertically under the ship.
The LFA sonar system uses high-intensity sound waves that can cause vibrations on the ocean surface hundreds of kilometers away, creating noise similar to a Boeing 747 engine during takeoff. That noise is the primary threat U.S. Navy surveillance ships pose to the marine environment.
Marine animals like whales, dolphins, sea lions and certain kinds of seals use echolocation-sending out underwater sound waves with a wide range of frequencies-to navigate their surroundings. For example, a dolphin's sonar is so sensitive that it can perceive from meters away a metal thread with a 0.2-mm diameter. Many kinds of whales also use echolocation to move around and communicate. The frequency of their sonar is much lower than that of dolphins, increasing the effective distance.
Unfortunately, a report by the U.S. Natural Resources Defense Council (NRDC) found that ambient noises in the sea, including military sonar, are jeopardizing the lives of whales and dolphins. These noises can influence their long-term activities, causing hearing loss and even death.
Sonar also decreases the success rate of predatory fish, like halibut, and their reproductive rate, as well as influencing the activities of giant sea turtles. Some fish suffer damage to their inner ears, which directly threatens their ability to survive.