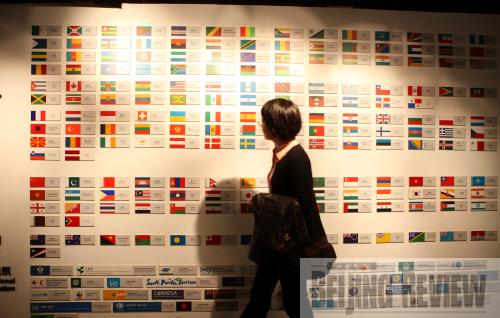 EXPO OF FLAGS: A visitor walks by a wall decorated with national flags of the countries that are expected to attend the World Expo 2010 Shanghai (JIANG XIAOYING)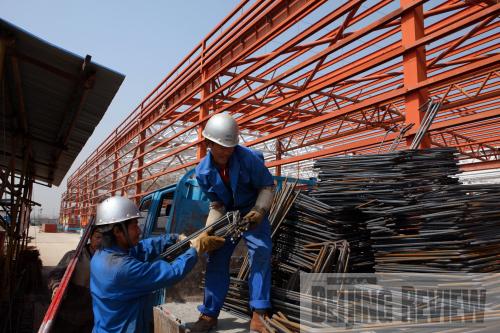 A BUSY SITE: Construction work is under way as the one-year countdown to the opening ceremony of the World Expo 2010 Shanghai is approaching (JIANG XIAOYING)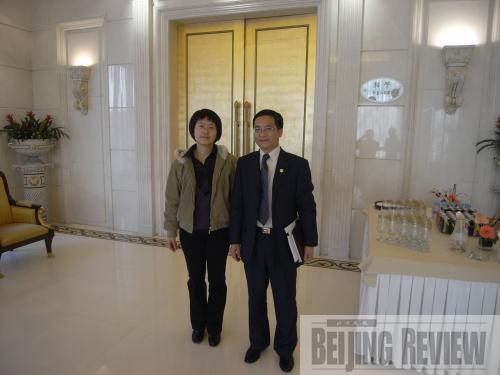 Chen Jintian, Director of the Management Department of the Joint-Africa Pavilion of the Bureau of Shanghai World Expo Coordination (ZHANG GONG)
As the first comprehensive world expo held in a developing country, the World Expo 2010 Shanghai has paid special attention to developing countries, especially African participants. It will very possibly become the stage for Africa to display itself to the world, Chen Jintian, Director of the Management Department of the Joint-Africa Pavilion of the Bureau of Shanghai World Expo Coordination, told Beijing Review.
The formal Letter of Invitation to the expo, signed by Chinese Premier Wen Jiabao on March 22, 2006, has received enthusiastic responses from African countries. So far, 49 of those with diplomatic relations with China, among the 53 African countries, as well as Burkino Faso, which currently has no diplomatic relations with China, and the Africa Union (AU) have responded favorably.
By March 24, 2009, apart from Angola, Mozambique and Burkina Faso, all the other confirmed African countries had already signed participation contracts with expo organizers. The participation scale of Africa will be larger than ever before, and Africa is also the continent with the largest number of participating countries.
The Africa exhibition area, which is located on the bank along the Huangpu River in the World Expo Park in Pudong, will be composed of a 26,000-square-meter Joint-Africa Pavilion, the rented and self-constructed pavilions, and the Africa Square for holding cultural activities.
The Joint-Africa Pavilion that began construction on August 15, 2008, is the largest and enjoys the most investment among all the international pavilions. The pavilion will be divided into 43 exhibition modules respectively for 42 African participants and the AU. Seven African countries such as Tunisia and Nigeria will rent modules.
As for the cultural activities of the African countries during the expo, it is reported that in its application submitted to the Bureau of Shanghai World Expo Coordination, the Afrikakeur Arts Festival plans to invite well-known professional troupes and artists from the African countries that have confirmed participation to perform in the Africa Month of the expo.
Moreover, the organizers of the expo set up a special $100-million fund for the over 100 participating developing countries, including African countries, for the basic operation of their pavilions like designing, construction and disassembly, which shows the great importance the Chinese Government attaches to developing countries.