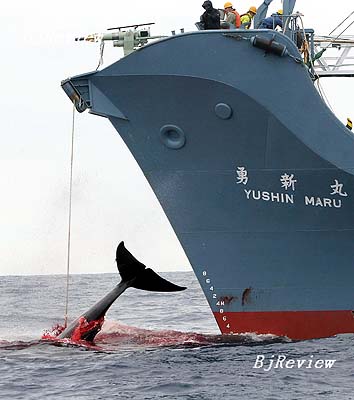 When the Japanese whale-hunting fleet set sail for the Antarctic waters on November 18, the crew members must have known that their voyage would not be smooth sailing.
Japan's annual whaling program routinely sets off a firestorm of protest from anti-whaling countries and organizations. In January 2006, Greenpeace's icebreaker Arctic Sunrise collided with the Japanese whaling ship Nisshin Maru in the Australian Antarctic in an anti-whaling campaign, damaging both vessels.
But the international pressure this year seemed to be stronger than ever. About one month after the fleet started its controversial journey, Japan said it was suspending its planned taking of 50 humpback whales, which would have made this year's mission the first major hunt of the endangered species since the 1960s. The country made the decision at the request of the United States, the chair of the International Whaling Commission (IWC), the Japanese Government said.
Humpbacks are large whales whose adults are 12 meters long to 16 meters long and weigh approximately 36,000 kg. A main target for the whaling industry, they were nearly harpooned to extinction before the IWC introduced a ban on humpback hunting in 1966. Humpback stocks have since partially recovered. They are now sought after by whale watchers, particularly off parts of Australian and U.S. coasts.
Despite the concession, Japan still plans to take as many as 935 minke whales and up to 50 fin whales in the Antarctic in what its Fisheries Agency said would be its largest-ever scientific whale hunt.
Given its time-honored history, whaling has become a cultural tradition in Japan. The country insists on catching whales in spite of widespread international criticism mainly to assert its cultural identity, international affairs experts in China said.
A controversial tradition
Whales have long been a source of food, oil and crafts' material in Japan. The oldest written mention of whaling in Japanese records is in Kojiki, the oldest existing Japanese book written in the 18th century. In the 17th century, traditional whaling techniques made great headway in Japanese coastal communities.
As food was scare in the poverty-stricken years following World War II, whales, as a cheap source of protein, became an important part of the Japanese diet. However, their popularity had plummeted as other types of meat such as beef became widely available.
Today, most young people in Japan do not like whale meat, said Zhao Gang, an assistant research fellow with the Institute of Japanese Studies at the Chinese Academy of Social Sciences. Zhao, who spent a few years in Japan during his academic career, said Japan's unrelenting approach to whaling provides evidence of its "cultural stubbornness."
In Japanese society, agriculture and fisheries are flagship industries that the nation takes pride in, Zhao said. If the government publicly opposes whaling, it will lose votes from farmers and fishermen, who are the major supporters of the incumbent Liberal Democratic Party, he said. With its insistence on whale hunting, Japan subconsciously wants to show its distinctive cultural characteristics to challenge U.S. and European cultures, he said.
Zhou Yongsheng, a professor specializing in Japanese studies at the China Foreign Affairs University, echoed Zhao's views. The ongoing pro-environment movement has dealt a severe blow to Japan's whaling industry. No whale meat has been sold in Japanese supermarkets since the mid-1990s, he said.
Japan catches hundreds of whales every year, mainly from the South Pacific's population of minke whales. In 1982, the IWC, the primary international mechanism for the protection of all whale species and of which Japan is a member, voted on a moratorium on commercial whaling to take effect in 1986. Japan initially intended to oppose the moratorium, but withdrew its opposition after the United States threatened to impose economic sanctions on it.
While it continues hunting whales today under a scientific research permit, Japan has wrestled with the IWC for years to overturn its 1986 ban on commercial whaling. Its desire to restart commercial whaling is evidenced by its annual petition to the IWC, requesting that the commission set a quota for commercial minke whale hunt. Although the IWC General Committee is split roughly 50-50 on whether commercial whaling should recommence, the petition has not yet come close to passing, because any significant change to the moratorium requires a 75 percent majority under IWC rules.
Japan also has recently called for a "normalization" of the IWC to return to its original mission of managing marine resources, rather than monitoring whaling activities.
At an IWC meeting in 2006, a Japan-backed resolution calling for the eventual return of commercial whaling was adopted by a majority of just one vote.
Scientific whaling
The Japanese public shows little interest in whale hunting since whale meat is no longer a popular food, Zhao said. The meat sold under the country's scientific whaling program often ends up as pricey items in specialty restaurants.
Also, Japan's scientific whaling is a subsidized government operation with almost no commercial significance, Zhao said.
Apart from arguing that whaling helps maintain an important Japanese cultural tradition, Japan firmly believes that a commercial hunt of minke whales, and potentially other whale species, would be sustainable.
The reliability of existing data on whale populations has been a major point of contention in the implementation of the
IWC's commercial whaling moratorium. Critics believe that the existing data were inappropriate for estimating whale demographics. They argued that the data were derived mostly from commercial sources, which are unrepresentative in terms of age, sex and distribution. This criticism provided another justification for Japan to push for whaling for scientific purposes.
Japan says that it seeks to ascertain whether commercial whaling is sustainable by carrying out scientific research aimed at finding answers to questions about the whale population and the mammals' age distribution. Some Japanese officials also pointed out that whales deplete fish stocks.
Japan conducts its scientific research in two areas-the North Pacific and Southern Hemisphere-under the auspices of the Institute of Cetacean Research, a privately owned, non-profit research institute founded in 1987.
Zhou said Japan should reduce the quantity of the whales it catches to better protect this vulnerable species, because the current amount is too large for scientific research.
This year's high-profile whale hunt plunged Japan into diplomatic disputes with a number of countries, particularly Australia. Canberra said it would dispatch surveillance planes and a ship to gather evidence for a possible international legal challenge to the hunt.
Also, Australia's ambassador to Japan presented a formal diplomatic protest in Tokyo to mark the start of Japan's whaling season. The protest, signed by 30 countries and the European Union, represented the largest international protest of its kind against Japanese whaling, according to media reports.
The escalating international pressure finally forced Japan to back down by dropping its planned catch of humpbacks. But Zhao said the compromise is not a substantial one, because conservatives who work in Japan's Fisheries Agency still hold on to their traditional beliefs about whale hunting.
"The compromise may be a result of the coordination between the Ministry of Foreign Affairs and the Fisheries Agency," he said.