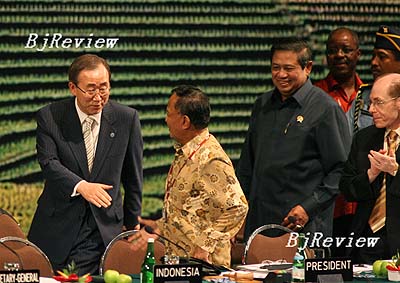 A new milestone was reached in the ongoing campaign against global warming on December 15 when representatives from more than 180 countries came up with a roadmap for negotiations on a crucial international climate change regime. The roadmap was adopted at the end of the UN Climate Change Conference in Bali, Indonesia, after two weeks of marathon talks.
The countries agreed to formulate a new global climate change framework by 2009 for the period after 2012. In its first commitment period from 2008 to 2012, the current regime, the Kyoto Protocol of the UN Framework Convention on Climate Change (UNFCCC), binds 36 industrialized countries and the EU to cut greenhouse gas emissions by an average of 5 percent below 1990 levels.
The Bali roadmap has charted the course for future negotiations with a number of notable features, such as stressing international cooperation and engaging the United States, Chinese climate change experts said. But its adoption is only the beginning of a long process toward finalizing the new deal.
The roadmap highlights the principle of "common but differentiated responsibilities" and calls on all parties to carry out long-term cooperation and take joint actions to realize the goals set in the UNFCCC, said Su Wei, deputy head of the Chinese delegation to the UN Climate Change Conference.
The United States has refused to sign the Kyoto Protocol, raising questions about how it will undertake emission reduction obligations as an industrialized country, Su said.
At the Bali conference, the United States waited until the last minute before dropping its opposition to a proposal made by developing countries, in which rich nations were asked to do more for the developing world to fight greenhouse gas emissions. This U-turn enabled the roadmap to come to fruition.
America's reluctance to make emission reduction commitments has much to do with its domestic politics, said Zhou Dadi, a research fellow at the Energy Research Institute of China's National Development and Reform Commission. As the largest greenhouse gas emitter among developed nations and one of the largest emitters on a per-capita basis, the United States has a great potential for cutting emissions. But neither the government nor industry decision makers are fully aware of the need to deal with climate change, he said.
Shared responsibilities
In the roadmap, both developed and developing countries accepted "measurable, reportable and verifiable" mitigation commitments or actions. But while negotiators should consider quantified emission limitations and reduction objectives for developed countries, developing countries will take actions "in the context of sustainable development," according to the roadmap. The delegates also decided that rich countries should work to transfer climate-friendly technology to poor nations.
Apart from mitigating climate change, the roadmap underlines three key points that have been ignored in previous international negotiations: the adaptation to climate change, technology development and transfer and financing, Su said.
At the Bali conference, the EU advocated a target of cutting greenhouse gas emissions by 25 percent to 40 percent compared to 1990 levels by 2020. But under opposition from the United States, this target was eliminated from the text, with an indirect reference inserted as a footnote.
The Bali roadmap does not commit countries to specific actions against global warming. Instead, it is intended to set an agenda and schedule for negotiators to find ways to reduce pollution and help poor countries adapt to environmental changes.
These negotiations should lead to specific emission reduction objectives for developed countries, Zhou said. They also should explore ways to promote technology transfer to developing countries, thereby helping them achieve sustainable development while cutting greenhouse gas emissions, he said.
China has committed itself to assuming responsibility for combating climate change along with other developing countries, Su said. "Developed countries are obligated to provide technological and financial support to developing countries, which should be commensurate with developing countries' efforts to cope with climate change."