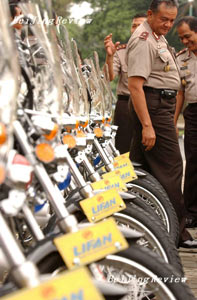 Back in 1998, Yin Mingshan found his company was between a rock and a hard place with seemingly nowhere to scooter through. As Chairman of the Board of Chongqing Lifan Industry Co. Ltd., China's largest motorcycle manufacturer, Yin was seeing his domestic market dry up while export volume also was shrinking.
But when Yin turned his eyes to Viet Nam in 1999, one of the hard places at least became a lot gentler to navigate through, mainly because he realized the company could sell its motorcycles for a lot less than competitors there.
"The wholesale price of one of our motorcycles is $700 and the retail price is $1,200-1,300, but the Japanese sell the same product at $2,100," Yin said.
It was a turning point, and ever since, Lifan has become a shining example of a domestic Chinese company finding success internationally through innovative, strategic thinking.
Neighbor to the south
Viet Nam is a traditional agricultural country where industrialization is still weak and the public transport is undeveloped. Hence, motorcycle becomes a first choice among residents. Back in the late 1990s, Japanese companies held 98 percent of the Vietnamese motorcycle market, with the other 2 percent held by Russian makers. Faced with the difficulties, however, Yin still decided to develop the Vietnamese market.
Lifan spent a lot in expanding publicity of the brand. It participated in many motorcycle exhibitions and sponsored a jump across the Red River, Viet Nam's mother river, by Lifan motorcycles. Lifan spent $300,000 to advertise the event on Viet Nam Central Television, also inviting the country's most popular film stars and singers to perform with an audience of 100,000 on the site. In 2000, Lifan contributed large donations to help Vietnamese people recover from floods, deeply impressing the country's people. The famous Vietnamese soccer star Lee Huyn Duc also joined Lifan Soccer Club, which is sponsored by the company, in 2001. After that, Lifan achieved significant media exposure in Viet Nam almost every month.
In three years, Chinese motorcycles seized 70 percent of Viet Nam's market while shares of Japanese products shrank to 30 percent. In 2000, the Vietnamese market accounted for 50 percent of Lifan's total exports of $52 million that year, according to figures released by Lifan.
However, the Vietnamese Government changed its policies at that time. It doubled the tariff level on the motorcycles, from 15 percent to 30 percent, and imposed import quotas.
The tariff increase squeezed Lifan's profits and restrictions on imports led to sharp declines of the company's exports. In order to extricate himself from this difficulty, Yin Mingshan decided in 2001 to purchase the investment approval in Viet Nam obtained by another Chinese motorcycle maker, Chongqing Huawei, a military industrial enterprise. Chongqing Huawei applied to the Viet Nam authority to establish a factory early in 1998, but only got investment approval two years later. Losing patience, together with some problems in cooperation with its Vietnamese partner, Chongqing Huawei withdrew from the Vietnamese market.
On January 1, 2003, Lifan-Viet Nam Motor Co. Ltd. launched operations as the first motorcycle factory in Viet Nam invested by a Chinese mainland company, with Lifan holding 70 percent of the shares.
"We recalled our investment in only about one and a half years and the investment returns reached more than 60 percent," Yin said, smiling.
"We have a bridgehead in Viet Nam winning through difficulties," said Yan Hua, General Manager of Lifan-Viet Nam Motor Co. Ltd. "In the future, it will be a bridgehead for us to export to the ASEAN market," he added. Within the ASEAN Free Trade Area, Lifan would be able to enter into other Southeast Asian countries with low tariffs through the Vietnamese market.
Imperfect market
While annual motorcycle sales volume in Viet Nam reaches 1.6-1.8 million, the market has its drawbacks too, said Yang Zhou, President of Lifan.
"In Viet Nam, restrictions on investment in automobiles and motorcycles are quite strict, with investment above $1 million being approved by the Central Government," Yang said, sighing time and time again. "It is very difficult to make deals with Vietnamese and the investment environment is extremely bad. It took us more than one year from obtaining investment approval to putting into operation of the factory, because policies of the Vietnamese Government are often changed and the explanations of policies are, hence, fickle. Contents of the investment approval may be explained like this today, but changed tomorrow."
For example, several companies from Chongqing co-established a motor factory in Viet Nam and the investment approval confirms it is allowed to produce motors. But the Vietnamese Government explained that it is allowed only to produce components and parts of motors, but no assembly of complete motors, since production means processing, not assembly. As a result, the factory became derelict and those companies lost every cent invested.
Meanwhile, if foreign companies want to invest in automobile and motorcycle sectors in Viet Nam, they have to submit detailed materials related to intellectual property for examination.
"Intellectual property rights cannot be well protected and is a large potential worry of Lifan," Yang said.
Despite these problems, Lifan still chooses to invest in Viet Nam. In Yang's opinion, establishing factories in Viet Nam can avoid restrictions of import quotas imposed by the Vietnamese Government and the restrictions of export bidding made by the Chinese Government.
"Except for China, you can find no other market larger than Viet Nam, so it is impossible for motorcycle makers to ignore the Vietnamese market," Yang said.
A new plan
Now Lifan is poised to bring vehicles with more than two wheels to Viet Nam.
"Car Model 520 will realize production in batches in Viet Nam beginning from November," said Mu Gang, Vice President of Lifan, who is responsible for overseas sales of Lifan automobiles.
According to Mu, Lifan's automobile project in Viet Nam requires the rental of a local automobile factory with ready assembly lines and workshops, saving time and investment. The Vietnamese partner also has sent 100 people to receive technical training in Chongqing and at the same time, Lifan will assign 30 or 40 of its technical personnel to work in Viet Nam.
Lifan plans to produce 3,000-5,000 automobiles in the first year and more than 10,000 in the second year.
In Viet Nam, the variety of automobiles is small but prices are quite high. Common cars cost $18,000-20,000, Mu said.
In present Viet Nam, tariffs on complete automobiles are 170 percent and those on components and parts only stand at 65 percent. By exporting components and parts to Viet Nam and then assembling them into complete automobiles, Lifan can enormously reduce the costs.