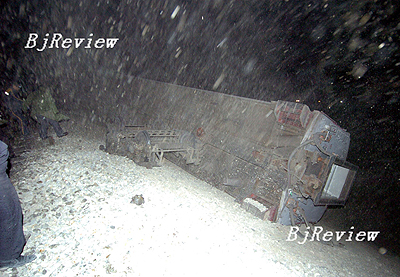 "Spring rain is as precious as oil." This ancient proverb invented by farmers in north China captures both the importance and rarity of springtime rain in the region. Areas south of China's great Yangtze River receive high levels of rainfall during the country's monsoon season, while north of the river rain is in short supply. This has been the pattern of rainfall for hundreds of years, but over the past 12 months the whole of China has begun to appreciate any rainfall.
Following a spring drought that hit the country's north, a particular dry summer hit the south with the third lowest rainfall and the second highest average temperature in history between July 1 and August 10.
Lack of rainfall in China's northeast since June, which was half the amount of a normal year, caused local corn farmers' harvests to drop by up to a quarter compared with 2006. Farmers in six southern provinces saw their rapeseed, sugar cane and tobacco wither under a scorching sun in the fields throughout a drought that was the second worst in 57 years, which began on September 20.
Although belated precipitations since the second half of December in the south finally relieved the two-month drought there, the economic toll of the dry spell on Chinese farmers was larger than in a normal year. Across China in 2007, 39.93 million hectares of farmland was affected by drought, of which nearly 9 percent became unfertile. Millions of people had difficulty accessing drinking water during the droughts.
According to a report released by the China Meteorological Administration (CMA), 2007 was a "worse-than-medium year" in terms of frequency of extreme weather and climate disasters, which broke several historical records. Large-scale droughts aside, frequent downpours together with ensuing landslides and city flooding, and a high number of fatal accidents involving lightning were also outstanding features of China's climate over the year. In 2007, direct economic losses from floods and ensuing landslides were 74.96 billion yuan ($10.3 billion) while there were 774 deaths from lightning strikes, which were both higher than in a normal year.
Good news from the report was a reduced level of damage from sandstorms and a low number of casualties from typhoons and floods. The average length of a sandstorm in northern parts of China in the spring was 1.9 days, far behind the normal level of 5.5 days. As a typhoon-active year in China, 2007 saw the landing of seven typhoons, which inflicted direct economic losses of 30.6 billion yuan ($4.2 billion). Yet the death toll of 76 from typhoons was the lowest in nine years. The flood-related death toll of 1,116 was also lower than the average level of the last eight years.
By December 20, weather disasters in 2007 had cost China 2,111 lives and direct economic losses of 179.8 billion yuan ($24.6 billion), which were both the lowest of the last three years. The report explains that this is attributable to a new working method in weather forecasts adopted by meteorological administrations at all levels.
CMA spokeswoman Jiao Meiyan said one example is that meteorological organizations in Fujian Province and Zhejiang Province sent a total of over 200 million short messages of weather forecast warnings to the public before and during typhoons in the two provinces. She said the result was a drop in typhoon casualties.
Hotter and drier
China's average temperature in 2007 (up to December 26) was 10.3 degrees centigrade, which made 2007 the warmest year since the establishment of a national climate-observation network in 1951. This record-high temperature, which marked the 11th year in a row that the national average temperature has been higher than in a normal year, was remarkably higher than the second highest figure of 9.9 degrees centigrade in 2006.
Commenting on the correlation between China's prolonged drought and warm weather in 2007, Zhang Qiang, a research fellow of the National Climate Center said there was no definite cause-and-effect relationship between the two phenomena, yet considering a temperature drop usually comes before snowfalls and rainfall, it is understandable that a record hot year is one with more droughts. He elaborated that both phenomena might be attributed to La Nina, an ocean-cooling phenomenon in the eastern Pacific.
It has been forecast by meteorological experts around the world that the current La Nina, which has been well established during the latter half of 2007, is expected to continue into the first quarter of 2008 at least.
Zhang Peixun, a research fellow of the National Climate Center, told China Meteorological News that the ongoing La Nina might peak in December 2007 and some drought-devastated regions in China, especially those in the south, might have to brace themselves for a spring drought that will last to at least the end of February.
"Of course, the high average temperature in China is part of the worsening global warming. But things should get better as countries have started to cut down on greenhouse gas emissions," said Zhang.
China's Climate Events in 2007
Gale in Turpan
On February 28, a gale (up to 41.8 meters per second) in Turpan, Xinjiang Uygur Autonomous Region blew 11 train cars off the track, killing four and disrupting rail traffic for nine hours.
Typhoon Sepat
On August 19, Typhoon Sepat slammed into southern Fujian Province after hitting Taiwan on August 18. The ensuing storms, downpours and landslides affected 114.2 million people in seven southern provinces, and left a death toll of 51 and direct economic losses of 10.3 billion yuan ($1.4 billion).
Floods in Huaihe River Basin
Between June 29 and July 26, concentrated and continuous rainfall in areas along the Huaihe River, averaging 465.6 mm, caused the worst flooding to hit the region since 1954. The floods affected 292.2 million people, killing 35 and causing direct economic losses of 15.6 billion yuan ($2.1 billion).
Hottest Year
China's average temperature in 2007 (up to December 26) was 10.3 degrees centigrade, 1.3 degrees higher than the average yearly temperature. This made the year of 2007 the warmest one in China since the national climate-observing network was established in 1951. This new record marks the 11th year in a row that the national average temperature was higher than normal. The second highest year was 2006 with an average temperature of 9.9 degrees centigrade.
Lightning Accidents
A total of 744 people died from lightning strikes in 2007. Between June 22 and 25, lightning, tornadoes and hail struck the central province of Jiangxi, affecting 3.59 million people, killing 41, 36 of which were killed by lightning strikes. The storms caused direct economic losses of 820 million yuan ($112 million).
Blizzards in Liaoning and Shandong
The strongest snowstorms recorded since a national climate-observing network was created struck Liaoning Province in the northeast and Shandong Province in the east between March 2 and 5. Over 1.84 million people in these two provinces were affected by the blizzards, which killed at least 17 and inflicted direct economic losses of 12.9 billion yuan ($1.8 billion).
Summer Droughts in the South
A particular dry summer in regions south of the Yangtze River was marked by the third lowest amount of rainfall and the second highest average temperatures in history between July 1 and August 10. About 1.5 million hectares of farmland in four southern provinces were damaged by drought, of which 242,000 hectares became totally sterile. The droughts caused direct economic damages of 4.99 billion yuan ($684 million), and 3.72 million people had difficulty accessing to drinking water.
Krosa Hits Zhejiang
On October 7, Typhoon Krosa battered the costal regions of Zhejiang and Fujian provinces, with maximum wind gusts near the eye of the typhoon recorded at 33 meters per second.
Frequent Inner City Floods
Rainstorms struck many cities in the summer of 2007, causing devastating inner city floods that disrupted traffic and led to enormous economic losses. The city of Chongqing in China's southwest, Jinan in eastern Shandong Province and Urumqi in Xinjiang Uygur Autonomous Region all experienced their heaviest daily rainfall totals in at least half a century.
Autumn Drought in South
In the three months since September 21, droughts in six southern provinces, the second worst in half a century, made access to drinking water difficult for over 3 million people and over 2.5 million cattle.
(Source: China Meteorological Administration)