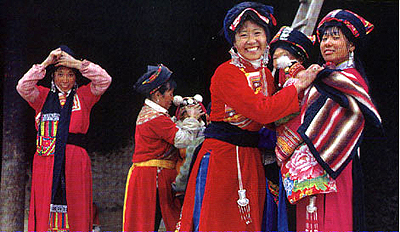 This festival on the fifth day of the third lunar month is popular at the Qiang people-inhabited stockade villages of north Maoxian County in the southeast Aba Tibetan and Qiang Autonomous Prefecture, northwest Sichuan Province. The event, with only women participants, lasts for four days, during which the men will take care of the children.
The festival derives from a legend that said there was once a pretty girl in heaven named Shalang. Seeing that male human beings in the secular world looked unhappy, she came to a lakeside on the fifth day of the fifth lunar month, singing and dancing. Her loud and clear songs and the elegant dance performance attracted women to follow suit. Since then, she came to the same place on the same day each year to teach local women to sing and dance.
However, the head of the stockade village attempted to force Shalang to marry him as his concubine, but in vain. Local women helped her return to heaven, and Shalang since then never came back to the human world.
To pay tribute to her, local women come to the lakeside on this day every year, bringing food and offerings in dedication to Shalang and to seek her protection. After this, they encircle hand in hand to dance Shalang's dance while singing her songs, and then go back home until dusk. During the night, every household prepares banquets for women, and men learn from the women the dance they got from Shalang. They will learn the dance for four consecutive days, until everyone has mastered its technique.
However, if a woman under 50 has died, the activity will not be held in that year.
(Source: www.gov.cn)