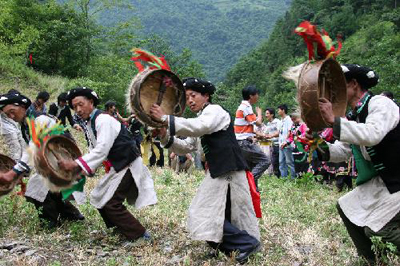 It is also called the Mountain Worship Festival, or Honoring Sky Divinity Meeting. The ceremony is conducted within a stockade village held one or three times a year between March and June of the lunar calendar. The procedure is complicated, and the sacrificing animals are different in different areas, due to different legends passed down in different localities. Totems worshipped are sacred sheep, sacred ox and sacred dog.
Most stockaded villages hold the event on April 12 as a lunar calendar show in the vicinity of mountains and woods. The Qiang people celebrate this festival as a means to venerate the mountains, woods and sky, which they believe to possess souls and divinity. Participants are men and unmarried women who get dressed up flamboyantly, bringing with them various exquisite foods and wines, as well as live cows, sheep, and chickens. A Shibi, a man similar to Duangong (the shaman) or an old respected person will hold the ceremony, praise the gods, and then kill the three animals they brought to pay tribute to Sky Divinity, Mountain Divinity and Wood Divinity. Then the presiding Shibi burns a cypress branch and praises the god with auspicious words. The whole village then grovels on the ground, and makes vows to gods jointly, and then, individually. Only the Shibi may stand and walk around. The entire ritual often lasts for several hours or up to a whole day.
The last rite of the ceremony is that all villagers make a pledge to obey village rules and ancestors advice passed down to younger generations. Upon firing a gun, people shout together and cheer, sing and dance till they are exhausted. At last, all food and meat are shared equally to everyone.
(Source: www.gov.cn)