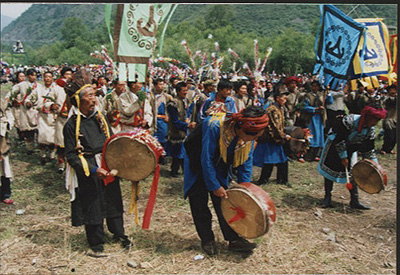 The Qiang people shifted from using a solar calendar to a lunar calendar around the time of the Qin Dynasty (221 B.C.-206 B.C.), thus the Qiang New Year comes on October 1 in accordance with the lunar calendar.
As the most important traditional festival of the year, the Qiang New Year lasts from three to five days. During these days, people no longer work and will stay at home to make sacrificial offerings shaped like calves, lambs and chickens with flour. These delicacies are used to honor their ancestors and the Sky Divinity.
In some Qiang inhabited areas, the local Duangong, or shaman, would dance to drive out demons. They would dance until they arrive at the woods. Then, they would slaughter a lamb and scatter the blood on a sacrificial altar, to worship to the Gods.
Qiang people would share the mutton and go back home to invite relatives and friends to drink wine they made, sing wine songs, and dance the Guo Zhuang Dance to celebrate a bumper harvest.
The Guo Zhuang Dance is a folk dance originated from an ancient activity where people danced in a circle around a boiling pot on the camp stove and stone stakes. Guo means stove and Zhuang means stake.
The Guo Zhuang Dance today has developed into a most popular dance -- dozens of men and women enclose a circle singing and dancing. They sing songs while dancing, one after another, with males and females constantly changing their positions to create a merry mood.
The Qiang people, young and old, all are good at singing and dancing. They sing and dance on many occasions -- during work, weddings and even funerals. People sing and dance as much as they like, keeping the singing and dancing feasts going until the dawn during holidays.
The wine song, a special Qiang song, is in antiphonal style, the singing switches between hosts and their guests all sitting in a line shoulder to shoulder. The lyrics are long, expressing not only auspicious congratulations and thankfulness, but also reciting family histories and referring to the past achievements of their ancestors.
The folk dances and songs are usually accompanied by a Qiang flute, an ancient six-scale clarinet with double pipes, small gongs, handbells, suona horn (a Chinese brass trumpet like wind instrument), and sheepskin drums.
(Source: www.gov.cn)