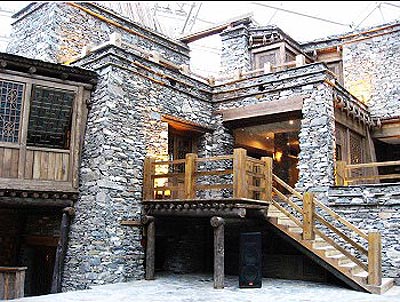 The Qiang people are renowned for their unique architecture: stone dwellings, blockhouse-shaped castles (or stone towers), rope bridges, paths in forests and cliffs, as well as dams for water irrigation systems.
As early as 2,000 years ago, there were records in The Biographies in Xinan Yi Area, a book written in the later Han Dynasty (206 B.C.-A.D.25 ), about stone dwellings on mountains inhabited by the Qiang people, something that earned them the name "people living in the clouds."
The soil-and-stone residential houses are square-shaped, flat-topped three-story buildings. The first floor serves to feed livestock and poultry; the second is made up of bedroom, living room, and kitchen; and the third is used for storing grain and sundries. The flat top floor is a platform that can be utilized for drying gain in the sun, and can also serve as a venue for rest, for women to knit and children to play in. Arcades are built between some buildings to make it easy to come and go and wooden ladders provide access to each floor.
The stone towers function as a defense against invasion; they are often 10-30 meters high, and usually located beside the Qiang villages, according to the book.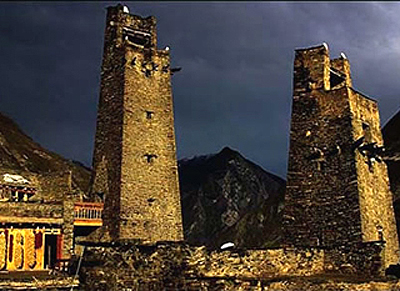 People used local soil and rocks as raw materials when constructing the towers, needing no blueprint as their experience set a high level of workmanship. The formation of the towers usually comprised four, six or eight corners and some are as high as 13 to 14 stories. The ancient Yongping Tower, built in the Ming Dynasty (1368-1644), was discovered intact in 1988.
People considered building the stone towers a big event in their life. So before the construction began, they would first choose a lucky day to start, offering sacrifices to God, treating craftsmen with cannon salutes and feasts, and drinking and dancing.
Living at high altitudes with surging rivers could pose an obstacle for the people who lived in the clouds, so the Qiang people created rope bridges to pass the rushing waters as early as 1,400 years ago. Several ropes or more than dozens of thick rope were fastened on stone pillars on both sides of the Minjiang River. The ropes, as thick as a bowl, had planks laid on them and bamboo armrests lined the bridge to support travelers crossing the rivers.
Qiang people have rich experience of water-control projects so are proficient in making wells and building dams. After farming season, people of the Qiang ethnic group would migrate to other places to work. The world-famous Dujiangyan Irrigation System was built by Qiang people, along with other ethnic groups and Han nationality together over 2,000 years ago.
(Source: china.org.cn)