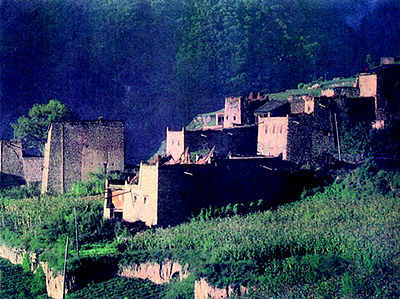 The Qiang ethnic group is mainly concentrated in the counties of Wenchuan, Lixian and Maoxian under Aba Tibetan and Qiang Autonomous Prefecture; also in Beichuan Qiang Autonomous County of Mianyang city in Sichuan Province. The land expanse of the area is covered mostly with mountains and foothills.
The Qiang population is 306,000 (according to statistics from the country's census in 2000). About a third of them speak the Qiang language with various dialects, which is a part of the Tibetan-Burma group under the Sino-Tibetan family, with no written form.
The Qiang is one of China's oldest ethnic minorities, and their activities were mentioned on inscriptions on bones or tortoise shells from the Shang Dynasty (1600 B.C.-1046 B.C.), or over 3,000 years ago.
During the Spring and Autumn Period (722 B.C.-481 B.C.), a group of Qiang people moved to the upper reaches of the Minjiang River, one of the main tributaries of the Yangtze River. They lived and worked there to eventually form today's Qiang minority.
Society and Economy
Before 1949, the Qiang tribe had very low productivity, using backward tools and primitive production methods resembling slash-and-burn cultivation. Feudal landlords dominated the whole economy.
The Qing (1644-1911) government forced Qiang farmers to plant opium to obtain huge profits, wreaking severe damage to their mental and physical health during the Opium War (1840-1842). Imperialists plundered rare medicinal materials and local special products, aggravating the misfortunes of the Qiang people.
Since the founding of the People's Republic of China in 1949, the local economy enjoyed a boom. Agriculture witnessed rapid development, with its grain output value increasing for many consecutive years. Industries sprang up from scratch and included paper, cement and assorted chemicals. Industrial cities and towns such as Fengyi, Weizhou and Xuankou are emerging. Small and medium-sized hydropower plants were developed, thanks to the abundant water resources in these areas, providing electricity for 97 percent of households. There are now bridges over Minjiang River, as well as highways connecting almost all the townships. Education, science and medical services have also developed rapidly. These areas are now home to dozens of middle schools and hundreds of primary schools that recruit over 95 percent of school age students.
Art and Culture
The Qiang people have a rich culture. Their homes, clothes, food, music, dance and language all have unique characteristics. Their exquisite architectural skills are evident in their ancient stone towers, blockhouses, rope bridges, and plank roads built along cliffs. They are famous for the technology used in digging wells and building dams, in addition to the skills of embroidery and carpet knitting.
Customs
Both males and females of the Qiang group wear gowns made of gunny with sheepskin vests, bind their hair with cloth, wear grass-made or embroidered sharp-pointed shoes. Women wear laced clothes with silver embroidered collars, and are fond of earrings, bracelets and silver medals.
Corn porridge, wheat and potatoes are served as staple food. Consumption of home-brewed wines and the smoking of orchid leaves are popular.
Their houses are made of stone and mud, and are usually three stories high. The first floor serves to feed livestock and poultry, the second contains bedrooms, a kitchen, and a shrine, and the third is used for storing grain and other necessities.
Cremation is one tradition, apart from inhumation and water burial.
Religion
Some of the Qiang people believe in Lamaism, but most practice a pre-Buddhist animism, believing everything to be imbued with spirits. They pray to white stones placed on the roofs of their houses, which they consider a form of God.
(Source: seac.gov.cn/China.org.cn)