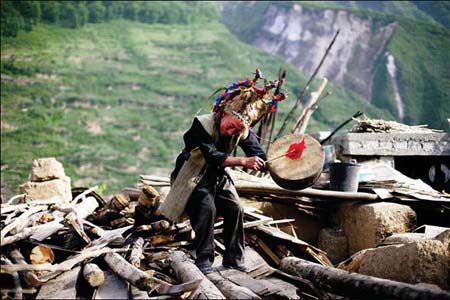 Wang Mingjie, a Qiang ethnic villager in Luobu village, prays on the ruins of his house.(Photo Source: China Daily)
After having braved days of landslides and aftershocks, Cheng Weidong finally reached Luobu village. He paused outside its makeshift shelters, unable to think of a suitable question to ask the Qiang minority friends he had made just five months earlier.
When the 57-year-old photographer with the China Ethnic Pictorial visited western Sichuan province last November, he interviewed the most senior village elder, Zhang Fulian. The 98-year-old had smiled happily for a photograph with his great-grandchild and other members of his huge family.
But, the May 12 earthquake leveled all the earthen houses in the village just 20 km away from the Wenchuan county epicenter. Cheng was saddened to hear the old man, along with his daughter-in-law and grandson, had been lost to the quake.
As he watched villagers dig food and clothes out of the ruins, Cheng tried to remember the house where he had chatted with the family.
"The earthquake dealt a heavy blow to the Qiang people. I really wanted to find them, but I didn't know what to say, or how I could comfort them," says Cheng, a tall, imposing man whose skin has been tanned dark brown after years on the Qinghai-Tibet Plateau.
The Qiang group is one of the country's oldest ethnic minorities whom Tibetans and other minorities of western China regard as their forebears. China's 320,000 Qiang people live in northwestern Sichuan's Maoxian, Wenchuan, Lixian and Beichuan counties, all of which were seriously affected by the quake.
Cheng and his two colleagues were the first reporters to reach the Qiang Luobu village after the quake. On his visit last year, it took him just half an hour to reach the "village on the clouds", famous for its well-preserved architecture and folk customs.
The road the local government had spent 10 million yuan ($1.43 million) building along the precipitous mountains was covered in landslides. Parts had tumbled into the Minjiang River, leaving enormous scars that gave Cheng the impression of a savagely executed oil painting.
Soldiers were preparing to carry 10 relief tents to the village. One whose home was in Aba prefecture offered to guide reporters across the pebbled slope. One wrong step on the 2-hour trek could have sent anyone tumbling into the raging river some 600 m below.