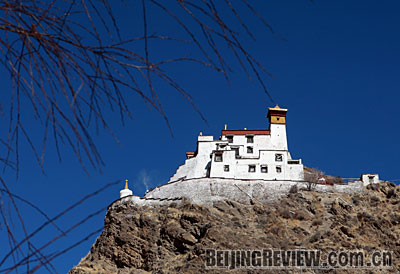 Yumbolhakang, Tibet's first royal palace built in 200 B.C. (JIANG XIAOYING) 
The Tibet Autonomous Region, covering 1.2 million square km in the southwest part of China, is situated on the Tibetan Plateau, often described as the "roof of the world." About 4,000 meters above sea level, it is the highest region in the world.
Tibet has a population of over 2.8 million, 95 percent of whom are Tibetans. The majority of the people are Tibetan Buddhists. Religion and spirituality are extremely important to the Tibetans and have a strong influence over all aspects of their lives.
The Tibetan Plateau is the source of several of the world's major rivers, including the Yangtze, Yellow, Mekong and Salween rivers.
The air is very dry for nine months of the year with low pressure and limited oxygen. The best season to travel to Tibet is summer, although winter has its own charm and the added advantage of travel reductions and lower admission fees to places of interest.
Where to go?
- Lhasa
A city 1,300 years old and usually the first stop of all travelers. It is the most sacred city in the heart of Tibetans as it is home to important Tibetan Buddhist sites like the Potala Palace, Jokhang Monastery.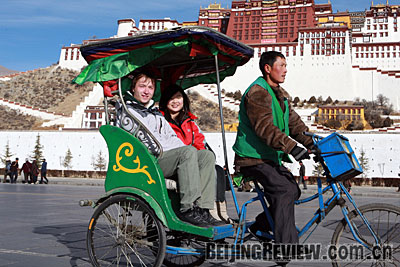 Tymon Strzelczyk (left) from Poland enjoys the charms of Lhasa with his Chinese girlfriend (JIANG XIAOYING)
Three important monasteries of the Gelug (Yellow Hat) sect of Tibetan Buddhism to see are Zhaibung Monastery, Sera Monastery and Gandain Monastery.
Barkor Street is an ideal place for buying Tibetan souvenirs, while those looking for cultural entertainment can find it at Nammating, a bar-like venue where local residents sing and dance.
- Xigaze
The second biggest Tibetan city and location of the Tashilungpo Monastery, residence of the Panchen Lama.
Sakya Monastery houses the largest volume of Tibetan Buddhist sutras in the world.
Yangzhog Yumco Lake is regarded as a holy lake in the heart of local Tibetans.
Lharze County in Xigaze is the gateway for travelers to Mount Everest.