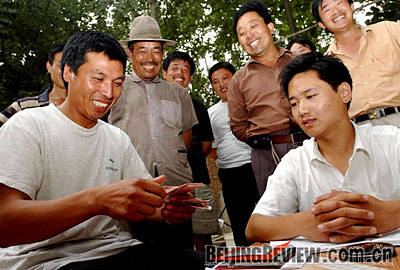 LUCKY GUY: Figures from the PBC show that at present, 120 million rural households need loans. Farmers of Shilou Village of Xinxiang, Henan Province, are happy to obtain small loans from the local rural credit cooperative
China's requirements for establishing national and city commercial banks are rigorous, but in the country's push to develop the countryside, it's much easier to start up new banking outlets in rural areas.
According to China's Law on Commercial Banks, the lowest registered capital for establishing a national commercial bank is 1 billion yuan while that for a city commercial bank is 100 million yuan. To start up a rural commercial bank, it calls for only 50 million yuan.
But, according to a new policy pushed forward by the Chinese Government to tackle the rural financing problem, requirements are less stringent for setting up village and township banks.
If you have 3 million yuan, you can establish a village and township bank at a county seat. If you have only 1 million yuan, you may set up a village and township bank in a town or a township. If you have less than 1 million yuan but you still want to be a banker, you may go to a village to open a credit cooperative with the same functions as a bank.
Zang Jingfan, Director of the Cooperative Finance Supervision Department of the China Banking Regulatory Commission, explained that village and township banks are financial institutions providing service for farming households and rural enterprises.
According to Zang, the CBRC is now drawing up implementation rules on village and township banks, and experimentation will be carried out in six provinces and autonomous regions, including Sichuan, Qinghai, Gansu, Inner Mongolia, Jilin and Hubei.
Open to all capital
"Bank capital, industrial capital and private capital, from home and abroad, all can invest in, acquire and establish banking institutions in rural areas," said Liu Mingkang, Chairman of the CBRC.
In December 2006, the CBRC released the policy on establishing financial institutions in rural areas. This policy opens access to all types of capital including private capital from China and abroad to invest in, acquire and establish village and township banks providing financial services for local farming households. Moreover, the policy also reduces requirements of registered capital so that all types of capital can enter the area of rural financial service with low standards of registered capital.
According to this policy, business access conditions and operating scopes of village and township banks are more relaxed than those of other commercial banks. Village and township banks can operate various kinds of banking business and are encouraged to develop new products. They are permitted to have a board of directors that supervises only the senior management and may contain fewer or even no special committees. Qualifications of the senior management in branches of newly established rural banking institutions are no longer necessary to be examined by the upper administrative department. All those who pass professional qualification exams can apply for senior management positions.
"Our major objective is to increase coverage of rural financial service," said Chairman Liu.
Such low requirements make Guo Tianyong, Director of the Research Center of the Chinese Banking Industry under the Central University of Finance and Economics, simply delighted.
"Reducing the threshold of rural financial institutions encourages more participants to enter the rural financial market," he said.
Guo believes that lower registered capital requirements enable more institutions to enter the rural financial market. The competition among them may promote survival of the fittest so as to increase the quality of financial service. Entrance of all types of capital and institutions is also beneficial to establishing a competitive mechanism.