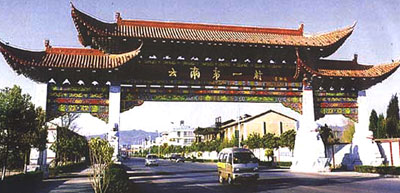 GATED COMMUNITY: Dayingjie, famed as Yunnan Province's No.1 village, is setting an example for west China's rural development
Xie Meihuan works in Dayingjie, the most prosperous village in Yunnan Province, but like most of the labor force she doesn't live there. Xie, a woman in her early 20s, travels about 2 km from a nearby township to sell baby clothes from a rented first-floor shop in the village.
In Dayingjie, visitors are driven through newly paved streets lined with manicured flowerbeds and shown villas with Greek-style columns. In Xie's home township the living conditions are more typical of rural life in central Yunnan, one of China's most scenic but also poorest provinces: little infrastructure, limited opportunities.
"I don't want to endure the hardship of endless farm work like previous generations. I am here for something new and different," she explained.
Xie is one of about 7,000 people who come from surrounding areas to work in Dayingjie, with a population of 5,012, which falls under the jurisdiction of Hongta District, Yuxi City - an area best known as the headquarters of Hongta Group, China's largest tobacco manufacturer.
Local officials laud Dayingjie as a model of the "new socialist countryside" that is the Central Government's current mantra. In its recently released 11th Five-Year Plan (2006-10), Chinese leaders pledged to invest more in rural infrastructure, health care and education, to create a better life for the vast rural population.
Dayingjie is an anomaly in the Chinese countryside, having done what other villages in land-locked Yunnan have been unable to do: make the transition from a backward community to a modern village with advanced industry and infrastructure, while, its leaders boast, ensuring residents are cared for, with free education for the young and pensions for the old.
And with its success, Dayingjie also faces challenges in the years ahead. Because residents are relatively comfortable and spoon-fed by local government, there is less incentive for hard work and a competitive mindset. Once educated, young go-getters are often drawn to brighter lights and bigger cities.
Meanwhile, other rural areas in China are trying to catch up to Dayingjie, with the encouragement of the Central Government. Local officials said the village must keep modernizing its industries and outlook to remain competitive in a changing environment.
A village blooms
Two decades ago, Dayingjie was indistinguishable from most other Yunnan villages - an obscure, poverty-stricken place chronically short of water and crops.
China's economic reforms and opening-up to the outside world, which resulted in urban and coastal areas being much more developed than rural and western areas, brought positive changes to the village starting in the early 1980s.
After the implementation of the contract responsibility system, under which the state leases land to households for a capped period of time, food shortage that had plagued the village was reversed in the harvests of successive years.
With a dramatic fall in poverty and a significant improvement in the amount and quality of food available, the leadership of Dayingjie began thinking about further development.
Ren Xinming earned his fortune by running a construction company in urban areas away from Dayingjie. In the early 1980s he decided to return to the village, sharing what he had learned with fellow villagers by organizing a building group.
He invested his own capital reserves as the initial funding of the village's new enterprise. Ren said the concept of common wealth was deeply rooted in the mentality of village leaders, and despite the trend of increasing privatization at the time, enterprises remained communally owned.
"I am always working toward common wealth together with all my brothers and sisters living here," said Ren, a gallant man who has been the head of Dayingjie since 1993.